Ryder Cup 2014 History & Information Guide
Hello and welcome to the OnlineGolf Ryder Cup 2014 interactive course guide. Here you'll find all you need to know about this year's Ryder Cup at Gleneagles on 23rd to 28th September 2014. We have information, tips and videos on all 18 holes, as well as expert advice and the history of the course, so have a click, explore the course and learn more about the prestigious Gleneagles course.

Use the tabs below to find out more about the history of the course, the players in the competition and what else you can do around the course.
Designed by legendary golfer Jack Nicklaus, the PGA Centenary Course at Gleneagles is one of the best courses in the country. Described by Nicklaus as "The finest parcel of land in the world I have ever been given to work with" his expertise certainly shows.

The course is 5,322 yards from the red tees and 7,243 yards from the blue tees and presents a challenge for both experienced pros and new amateurs. Set to the stunning views of Scottish countryside the course is truly in an amazing place, you can see four different mountains from nearly as many holes.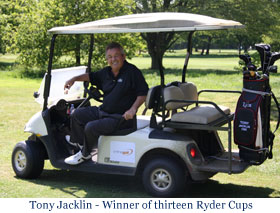 The course was originally created in the early 1990s and was known as the Monarch's Course, but it was renamed the PGA Centenary Course in February 2001 in honour of the hundredth anniversary of the PGA.

The Ryder Cup unofficially started in 1921 at Gleneagles when J.H. Taylor, Walter Hagen and Harry Vardon, along with seventeen other men, played an international challenge match with teams from Great Britain and the USA. This match led to the creation of the official creation of the Ryder Cup in 1927.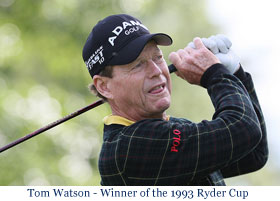 Europe was allowed into the competition after the USA's dominance until the 1979 competition when legendary golfers Seve Ballesteros and Antonio Garrido joined the team. This allowed the European team their first victory in the 1985 Ryder Cup.

Named after an English seed merchant who bought the original Ryder Cup, the cup itself is topped with the image of Abe Mitchell – himself a great – and symbolises the greatness of sporting competition.

One of the most famous moments in the entire Ryder Cup history was between Tony Jacklin and Jack Nicklaus in the 1969 competition at Royal Birkdale. After a controversial competition Jack Nicklaus conceded a two-foot putt to Tony Jacklin which ties the competition for the first time ever. This is considered the most sportsmanlike gesture in history.

Jacklin is considered one of the greatest players in the Ryder Cup with thirteen wins, fourteen losses and eight halves. In 1987 he led the European team to victory on American soil for the first time in the competition's history. We met up with Tony Jacklin earlier in the year for some exclusive interviews.