Spieth takes down Reed, sets sights on McIlroy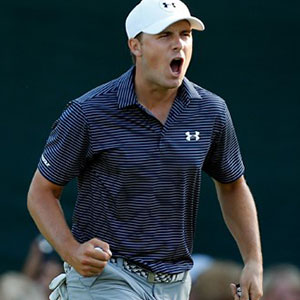 Jordan Spieth dispatched of a tricky Patrick Reed at the Velspar to record his second PGA Tour victory – and the 21-year-old now has his sights set on dethroning McIlroy.
Spieth showed his deep supply of skill as he overcame Ryder Cup teammate Reed and compatriot Sean O' Hair in a scintillating play-off at Innisbrook, Florida.
The win comes on the heels of back-to-back wins at the turn of the year for Spieth, who claimed victory at Tiger Woods' Hero World Challenge and the Australian Open, making him a strong favourite to threaten McIlroy's dominance.
And the anoraks among you will know that Spieth joins an elite club of four players including Tiger Woods, Sergio Garcia and Robert Gamez as the only golfers to have recorded two PGA Tour wins before their 22nd birthday.
"I like studying the game, I'm a historian of the game," Spieth said.
"It's really cool to have my name, you know, go alongside those. But right now currently and what I'm really focused on is Rory McIlroy is No. 1 in the world. That's who everyone is trying to chase.
"That's our ultimate goal is to eventually, you know, be the best in the world and this is a great, great stepping stone.
"Going into the four Majors of the year to have closed one out in this kind of fashion is going to give me a lot of confidence."
Spieth came gut-wrenchingly close to adding a Masters trophy to his budding cabinet last year, but came up short after failing to keep his putting in check. However, this year the American is confident he's worked out the kinks.
"That's something that in those wins at the end of last year, Australia, I putted incredibly well on Sunday and proved that to myself that I could do that," he said.
"When I was in contention prior I struggled with those five, six footers or even four footers that I needed or just to make even a 15, 18 footer, just have something go in from a decent range on the back-9 Sunday.
"I'm getting better and better at, grinding over those four, 5-footers and knocking them in the back. Those putting stats have improved significantly. That's why my short game is better.
"I think that if I continue to make those and obviously practice all the shots that I have, then it's only going to bring confidence in the rest of my game."
Spieth is currently sixth in the World Rankings following his Velspar victory.
Latest News
OG News: Jarrod Lyle confirms he's in "palliative care"

The golf world, and many out of it, have been left rocked by the news that Jarrod Lyle is going into palliative care after claiming he is "no longer able to fight."
Read more

OG News: Two events left for McDowell to secure PGA Tour card

Graeme McDowell will have just two events to secure a PGA Tour card which would enable him to play in the United States next year after failing to qualify for next week's USPGA Championship in Missouri.
Read more

OG News: Leona & Lisa Maguire sign deals with Puma Golf

PUMA Golf a leader in golf apparel, footwear and accessories are pleased to announce the signing of sisters Leona & Lisa Maguire with immediate effect.
Read more
club.news.more
Latest Videos
Video: Callaway Chrome Soft & Chrome Soft X

Chrome Soft Golf Balls combine Tour-proven performance with unparalleled feel and exceptional mis-hit forgiveness. Everything about the ball that changed the ball is better because of the innovation at every layer, starting with Callaway's groundbreaking new Graphene Dual SoftFast.
Read more

Video: Cobra Golf KING F8 Iron Tech

KING® F8 Variable and ONE Length™ irons are equipped with COBRA CONNECT™. Automatic shot tracking technology Powered By Arccos™.
Read more

Video: Octagon

The driver face is outdated. TaylorMade thinks its found the solution and sat down with five of its biggest players to see their reactions as the most twisted driver innovation is revealed. Are you ready to see?
Read more
club.news.more