Rory McIlroy has fine reduced after apology and reveals some interesting season stats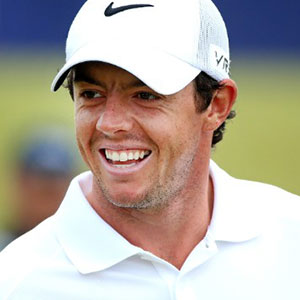 Rory McIlroy has revealed how an apology saved him a fortune in fines from the PGA Tour.
McIlroy filled the back pages back in March after throwing his 3-iron in to a lake during the WGC-Cadillac Championship at Doral, much to the ire of the golf club hosting the event.
And while the PGA Tour does not disclose how much players are fined for such poor sportsmanship behaviour, McIlroy has lifted the lid on how hard his wallet was hit – or almost hit.
"The fine was reduced from $25,000 (£16,500) to $5,000 (£3,300) because I said I was sorry in the TV interview afterwards," the Northern Irishman explained.
McIlroy has won three times so far this season (Dubai Desert Classic, WGC-Cadillac Match Play and Wells Fargo Championship), and his sponsor Santander has been tracking his season's numbers which make some interesting reading. Even McIlroy said he was surprised by some of the statistics surrounding his travel, competition and training regimes.
"When you are in the middle of it you don't realise because it's what you do, and then you step back and get presented with numbers and you're like 'Wow!'", McIlroy said.
"It's an interesting look at how I spend my most precious commodity, my time. They're comparing it with the money people are spending, but it's the same thing. You don't realise it until you see it and it's really useful for me in managing my time a bit better."
Despite suffering a pretty nasty ankle injury which prevented him defending his Open Championship title at St Andrews, McIlroy had just 18 full days off in 2015 and spent 287 nights on the road.
McIlroy has hit 16,500 golf balls, completed 6,800 press-ups, 6,320 pull-ups and spent 6,720 minutes stretching; a massive change from the year of his first major victory in 2011.
Latest News
OG News: Jarrod Lyle confirms he's in "palliative care"

The golf world, and many out of it, have been left rocked by the news that Jarrod Lyle is going into palliative care after claiming he is "no longer able to fight."
Read more

OG News: Two events left for McDowell to secure PGA Tour card

Graeme McDowell will have just two events to secure a PGA Tour card which would enable him to play in the United States next year after failing to qualify for next week's USPGA Championship in Missouri.
Read more

OG News: Leona & Lisa Maguire sign deals with Puma Golf

PUMA Golf a leader in golf apparel, footwear and accessories are pleased to announce the signing of sisters Leona & Lisa Maguire with immediate effect.
Read more
club.news.more
Latest Videos
Video: Callaway Chrome Soft & Chrome Soft X

Chrome Soft Golf Balls combine Tour-proven performance with unparalleled feel and exceptional mis-hit forgiveness. Everything about the ball that changed the ball is better because of the innovation at every layer, starting with Callaway's groundbreaking new Graphene Dual SoftFast.
Read more

Video: Cobra Golf KING F8 Iron Tech

KING® F8 Variable and ONE Length™ irons are equipped with COBRA CONNECT™. Automatic shot tracking technology Powered By Arccos™.
Read more

Video: Octagon

The driver face is outdated. TaylorMade thinks its found the solution and sat down with five of its biggest players to see their reactions as the most twisted driver innovation is revealed. Are you ready to see?
Read more
club.news.more