Nike Golf Vapor Fly range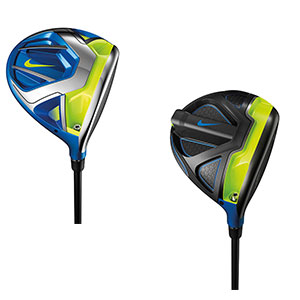 Those eye-catching blue drivers you've been hearing about? Well here they are! Nike has announced the impending release of its brand new Vapor Fly range of golf clubs, which are said to bring 'Photo Blue' to the fairways for the very first time.
The Vapor Fly range consists of three drivers, two irons, a fairway and hybrid – enough selection to suit all players – and the range replaces the previous generation of Nike Vapor golf clubs.
Nike Vapor Fly & Vapor Fly Pro Drivers
Vapor Fly & Pro drivers boast a striking Photo Blue look which immediately grabs your attention, although there's a lot more to enjoy here besides the flashy exterior.
These drivers have 30% lighter FlightWeight Crown thanks to Nike implementing a titanium thinner, a honeycomb design that adds strength and saves weight, plus larger Covert Cavity and strengthened FlyBeams to lower Centre of Gravity.
Throw in a new HyperFlight face that is thinner and faster (and is the also the driving force behind Nike's Project Max and the Vapor Fly and Vapor Fly Pro) are two drivers which offer so much more for the player than ordinary clubs.
Nike Vapor Flex 440 Driver
Constructed of two parts, the Vapor Flex 440 driver has a tough titanium face section and leading edge that's joined to a larger rear section that is made from Nike's RZN material infused with Carbon Fibre.
Just like its predecessor (Vapor Flex) the Flex 440 comes with adjustable FlightPod weight that can be inserted two ways into the driver head to alter flight and maximise distance.
Nike Vapor Fly Fairway
The Vapor Speed was a great success. We all loved it, and so did Rory McIlroy who urged the Nike engineers to keep working along the same lines as before. So they went away and came back with a combined head size and shape with the adjustability found in the Vapor Flex to create the new Vapor Fly Fairway.
Again the fairway is adorned with Photo Blue finish on a thinner steel FlightWeight crown and a Covert Cavity on the sole that pushes the weight further out to increase forgiveness. There's also a chrome HyperFlight face to boost speed.
Nike Vapor Fly Hybrid
A better player look at address and more iron-like profile helps the Vapor Fly hybrid blend into the rest of the set with a sliver line extending around the clubhead offsetting the now familiar Photo Blue crown.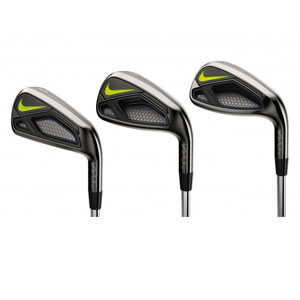 Nike Vapor Fly And Vapor Fly Pro Irons
Now we come to the irons. These have been released to cover the mid to high end of the handicap spectrum and replace the Vapor Speed.
These irons have been designed for increased forgiveness and distance, and both feature a large cavity and FlyBeam bar to support the face. The Vapor Fly are a large hollow iron with a larger cavity to deliver the maximum forgiveness as well as a thick top line and offset to give confidence at address.
The Vapor Fly Pro are aimed at players lower on the handicap scale than the Vapor Fly but the hollow cavity and larger head size means they're still suited to players looking for a little help. Dark styling and progressive set construction lend a twist with the short irons having superb feel.
The Nike Golf Vapor Fly range is available from 12th February, and OnlineGolf customers can pre-order these awesome clubs from 29th January.
Latest News
OG News: Jarrod Lyle confirms he's in "palliative care"

The golf world, and many out of it, have been left rocked by the news that Jarrod Lyle is going into palliative care after claiming he is "no longer able to fight."
Read more

OG News: Two events left for McDowell to secure PGA Tour card

Graeme McDowell will have just two events to secure a PGA Tour card which would enable him to play in the United States next year after failing to qualify for next week's USPGA Championship in Missouri.
Read more

OG News: Leona & Lisa Maguire sign deals with Puma Golf

PUMA Golf a leader in golf apparel, footwear and accessories are pleased to announce the signing of sisters Leona & Lisa Maguire with immediate effect.
Read more
club.news.more
Latest Videos
Video: Callaway Chrome Soft & Chrome Soft X

Chrome Soft Golf Balls combine Tour-proven performance with unparalleled feel and exceptional mis-hit forgiveness. Everything about the ball that changed the ball is better because of the innovation at every layer, starting with Callaway's groundbreaking new Graphene Dual SoftFast.
Read more

Video: Cobra Golf KING F8 Iron Tech

KING® F8 Variable and ONE Length™ irons are equipped with COBRA CONNECT™. Automatic shot tracking technology Powered By Arccos™.
Read more

Video: Octagon

The driver face is outdated. TaylorMade thinks its found the solution and sat down with five of its biggest players to see their reactions as the most twisted driver innovation is revealed. Are you ready to see?
Read more
club.news.more