John Daly defends rowdy US fans at Ryder Cup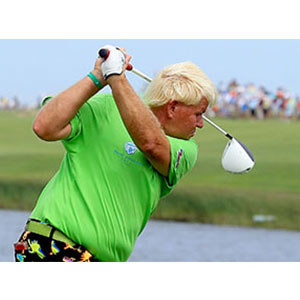 The ever colourful John Daly has spoken out in defence of the rowdy antics displayed by portions of the US team's fans during the recent Ryder Cup at Hazeltine.
The PGA of America was forced to issue warnings throughout the match in which it threatened to remove fans from the venue if they directed "vulgar or profane language" towards the players after Europe's Rory McIlroy was subjected to some particularly personal abuse.
John Daly, however, feels the US fans did nothing wrong and the PGA were unfair on his fellow countrymen. Daly is the only player to win two major trophies and yet never feature in a Ryder Cup, but felt the raucous atmosphere made the event that much better. He said: "I thought it was great! As long as nobody gets hurt and it's a controlled environment, you should be able to cheer on your team as loud as you want.
"You will always have rowdyism (sic) and name-calling no matter what; that's what security is for. The louder the better! It's all about team spirit isn't it!"
And he had plenty of nice things to say about the USA's dominant performance over Europe, gaining their first win since 2008, adding: "They just all played some incredible golf. They outputted the Europeans."
Daly has barely played on the PGA Tour in recent times, with him taking more time with the seniors' Champions Tour, which comes to an end soon.
"It's been very laid-back," said the 50-year-old. "I'm getting to know the golf courses on the Tour. Some suit my game and some don't. They are a lot shorter, so I rely a lot more on my short game. Overall, it's been fun!"
Daly is next expected to line up at the Mission Hills World Celebrity Pro-Am on China's Hainan Island on October 20-23.
Latest News
OG News: Jarrod Lyle confirms he's in "palliative care"

The golf world, and many out of it, have been left rocked by the news that Jarrod Lyle is going into palliative care after claiming he is "no longer able to fight."
Read more

OG News: Two events left for McDowell to secure PGA Tour card

Graeme McDowell will have just two events to secure a PGA Tour card which would enable him to play in the United States next year after failing to qualify for next week's USPGA Championship in Missouri.
Read more

OG News: Leona & Lisa Maguire sign deals with Puma Golf

PUMA Golf a leader in golf apparel, footwear and accessories are pleased to announce the signing of sisters Leona & Lisa Maguire with immediate effect.
Read more
club.news.more
Latest Videos
Video: Callaway Chrome Soft & Chrome Soft X

Chrome Soft Golf Balls combine Tour-proven performance with unparalleled feel and exceptional mis-hit forgiveness. Everything about the ball that changed the ball is better because of the innovation at every layer, starting with Callaway's groundbreaking new Graphene Dual SoftFast.
Read more

Video: Cobra Golf KING F8 Iron Tech

KING® F8 Variable and ONE Length™ irons are equipped with COBRA CONNECT™. Automatic shot tracking technology Powered By Arccos™.
Read more

Video: Octagon

The driver face is outdated. TaylorMade thinks its found the solution and sat down with five of its biggest players to see their reactions as the most twisted driver innovation is revealed. Are you ready to see?
Read more
club.news.more