Pros advice
Grand Slam of Golf to be discontinued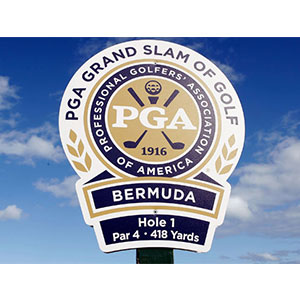 The PGA's elite Grand Slam of Golf, which brings together the winners of the season's four major tournaments, is to be discontinued.
The news comes after the PGA of America confirmed that the 36-hole stroke-play event, which was launched in 1979, has ran its course due to a mix of scheduling difficulties and a drop in interest from fans and sponsors.
The PGA of America said the Tour's wrap-around schedule, which beings in October, the European Tour's Race to Dubai, plus other key international events, make the autumn schedule very busy and too hectic for the top players in the world to compete.
"After carefully evaluating the PGA Grand Slam of Golf over the past few years and studying how this event fits with today's golf landscape and the PGA of America's long term strategic plan, the PGA has decided to discontinue the event," the organisation said on its official website.
"When the PGA Grand Slam of Golf was launched in 1979, the golf world was much different than it is today."
Germany's Martin Kaymer was the last winner of the Grand Slam of Golf, claiming victory in 2014.
Latest News
OG News: Jarrod Lyle confirms he's in "palliative care"

The golf world, and many out of it, have been left rocked by the news that Jarrod Lyle is going into palliative care after claiming he is "no longer able to fight."
Read more

OG News: Two events left for McDowell to secure PGA Tour card

Graeme McDowell will have just two events to secure a PGA Tour card which would enable him to play in the United States next year after failing to qualify for next week's USPGA Championship in Missouri.
Read more

OG News: Leona & Lisa Maguire sign deals with Puma Golf

PUMA Golf a leader in golf apparel, footwear and accessories are pleased to announce the signing of sisters Leona & Lisa Maguire with immediate effect.
Read more
club.news.more
Latest Videos
Video: Callaway Chrome Soft & Chrome Soft X

Chrome Soft Golf Balls combine Tour-proven performance with unparalleled feel and exceptional mis-hit forgiveness. Everything about the ball that changed the ball is better because of the innovation at every layer, starting with Callaway's groundbreaking new Graphene Dual SoftFast.
Read more

Video: Cobra Golf KING F8 Iron Tech

KING® F8 Variable and ONE Length™ irons are equipped with COBRA CONNECT™. Automatic shot tracking technology Powered By Arccos™.
Read more

Video: Octagon

The driver face is outdated. TaylorMade thinks its found the solution and sat down with five of its biggest players to see their reactions as the most twisted driver innovation is revealed. Are you ready to see?
Read more
club.news.more