Pros advice
Explanation of 2016 Putting Ban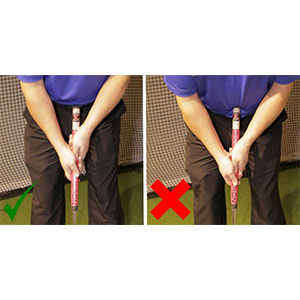 From January 1 2016, under the R&A's proposal to amend the rules of golf, every player shall be prohibited from anchoring their club when making a stroke. The adoption of Rule 14-1b will be all-inclusive and effective over the next four years and affects amateurs and professionals alike.
Playing under new ruling
Rule 14-1b focuses only on the method of stroke; it does not limit the conforming equipment that may be used. While making a stroke, a player may not anchor the club (i) "directly" or (ii) indirectly through use of an "anchor point". The club is being anchored "directly" when the player intentionally holds the club or a gripping hand in contact with any part of his or her body, although he or she can hold the club or gripping hand against a hand or forearm.
An "Anchor Point" exists when the player intentionally holds a forearm in contact with any part of his or her body to establish a gripping hand as a stable point around which the other hand may swing the golf club.
Rule 14-b: Why has it been introduced?
Anchored strokes have been a controversial subject within the golfing community for years now but really came to a head in 2011 and 2012 when the use of anchoring rose sharply in popularity. This forced the R&A and the USGA to announce in February 2012 that it was going to look at whether anchored strokes should be banned under the Rules of Golf. They gathered evidence from players, governing bodies, golf associations, and the general public to garner opinion. Opinion. The decision came down that anchored strokes should be prohibited from January 2016.
Not everyone backs Rule 14-1b . The PGA Tour requested the Rule not be adopted at all, as did the PGA of America, the Canadian PGA, and the National Golf Course Owners Association.
However, the European Tour, LPGA, Ladies European Tour, the Professional Golfers' Association of Great Britain and Ireland (joined by the PGAs of Europe), shared their support for the proposed Rule.
You can still use belly and long putters without anchoring
You will still be allowed to use any conforming belly-length or long putter as long as you do not anchor the club while making a stroke. As these putters have grown considerably popular over the past few years, they will remain useable at all levels of the game. Again, you'll need only to move the club just off the body so that it is not anchored. In short, for each type of currently used anchored stroke that will be subject to penalty under Rule 14-1b, you in effect need only to move the club and hand (and, if relevant, the forearm) away from the body by a small degree such that the club is not anchored and a free swing occurs. The method of stroke will not be identical and you will need to control and swing the entire club. It's a hassle but it does mean everyone who wants to continue using these putters can do so.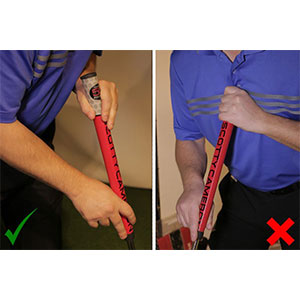 Here is a selection of frequently asked questions about anchored putting which might help answer any niggling issues:
Which methods of stoke have been prohibited?
Only a few types of stroke are prohibited under the new ruling; those in which the club is intentionally anchored, either directly or indirectly or through the use of forearm against the body, will result in penalty. All other types of stroke and styles of grip remain legal.
Does the rule only apply to strokes made from putting green?
Rule 14-1b has been applied to all types of stroke (putts, pitch shots, chip shots, full-length shots etc.) regardless of where the stroke is made (putting green, fairway, rough, tee, fringe) and everywhere else on the golf course.
Are Belly Putters and Long Putters banned?
Conforming belly putters will still be legal to use during a game.
How is the "forearm" defined?
When it comes to Rule 14-1b, the forearm is the part of the arm below the elbow joint and including the wrist.
Is a "side-saddle" stroke permitted?
As long as the player does not anchor his or her club directly or indirectly, nor hold a forearm against the body to create an anchor point, then yes a side-saddle is still permitted.
Is it illegal to intentionally rest one or both forearms against the body while making a stroke?
No. A player may intentionally hold a forearm against their body. This is only prohibited when used to create an anchor point.
Latest News
OG News: Jarrod Lyle confirms he's in "palliative care"

The golf world, and many out of it, have been left rocked by the news that Jarrod Lyle is going into palliative care after claiming he is "no longer able to fight."
Read more

OG News: Two events left for McDowell to secure PGA Tour card

Graeme McDowell will have just two events to secure a PGA Tour card which would enable him to play in the United States next year after failing to qualify for next week's USPGA Championship in Missouri.
Read more

OG News: Leona & Lisa Maguire sign deals with Puma Golf

PUMA Golf a leader in golf apparel, footwear and accessories are pleased to announce the signing of sisters Leona & Lisa Maguire with immediate effect.
Read more
club.news.more
Latest Videos
Video: Callaway Chrome Soft & Chrome Soft X

Chrome Soft Golf Balls combine Tour-proven performance with unparalleled feel and exceptional mis-hit forgiveness. Everything about the ball that changed the ball is better because of the innovation at every layer, starting with Callaway's groundbreaking new Graphene Dual SoftFast.
Read more

Video: Cobra Golf KING F8 Iron Tech

KING® F8 Variable and ONE Length™ irons are equipped with COBRA CONNECT™. Automatic shot tracking technology Powered By Arccos™.
Read more

Video: Octagon

The driver face is outdated. TaylorMade thinks its found the solution and sat down with five of its biggest players to see their reactions as the most twisted driver innovation is revealed. Are you ready to see?
Read more
club.news.more