Colin Montgomerie wants penalties imposed for slow play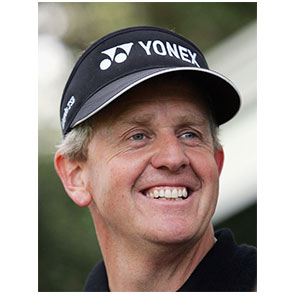 Colin Montgomerie took time out of preparing for this week's European Senior Tour's season-ending event to weigh in on the argument over how to punish players who take too long on the golf course.
Monty is backing the call for officials to impose shot penalties rather than money for slow play, and believes the current system of issuing fines is a "joke" and simply doesn't work. He also called on officials to start being "proactive rather than reactive" in a bid to improve the pace of play.
The slow play issue was a hot topic a fortnight ago in a two-day conference at St Andrews and Monty firmly backs the R&A and its mission statement to stamp out slow players halting the flowing rhythm of play.
"It is one of the issues why we, in the western world, are not playing as much golf," the 52-year-old explained. "People want to do different things with their leisure time and there is more availability in that respect these days.
"Golf has suffered due to the time it now takes to play and I feel the only way to deal with it properly is by being proactive, not reactive to a situation. By that, I mean we shouldn't have to wait for a group to be out of position before we try and make that position better.
"We should be proactive and especially in majors, where there's a referee with every group, players should be on the clock from the word go. The first group should then play in the same time as the last group. They'd all get round in 4hrs 15mins or the allotted time to play because that's what has been planned out.
"At the moment, we have to wait until there's a situation before that group is warned and that's not right, no, as we all suffer. Sponsors suffer, TV suffer and the general public, too, as they want to see action."
During the St Andrews meeting it was revealed that 24 golfers had incurred penalty shots on the European Tour since 1998 – but only one player on the PGA Tour has actually been penalised in a regular event over the past 20 years.
"The deterrent isn't strong enough, there's no question," added Montgomerie. "The fines are a joke as people just take them and move on.
"I believe the last person to get fined a shot penalty on the PGA Tour was Glen Day, who we called All Day. That was in 1995, which is just unbelievable. No-one has been penalised a shot since then.
"I get on with it and it is wrong that the pace of play is generated by the slowest player and not the quickest one – that is not right."
Latest News
OG News: Jarrod Lyle confirms he's in "palliative care"

The golf world, and many out of it, have been left rocked by the news that Jarrod Lyle is going into palliative care after claiming he is "no longer able to fight."
Read more

OG News: Two events left for McDowell to secure PGA Tour card

Graeme McDowell will have just two events to secure a PGA Tour card which would enable him to play in the United States next year after failing to qualify for next week's USPGA Championship in Missouri.
Read more

OG News: Leona & Lisa Maguire sign deals with Puma Golf

PUMA Golf a leader in golf apparel, footwear and accessories are pleased to announce the signing of sisters Leona & Lisa Maguire with immediate effect.
Read more
club.news.more
Latest Videos
Video: Callaway Chrome Soft & Chrome Soft X

Chrome Soft Golf Balls combine Tour-proven performance with unparalleled feel and exceptional mis-hit forgiveness. Everything about the ball that changed the ball is better because of the innovation at every layer, starting with Callaway's groundbreaking new Graphene Dual SoftFast.
Read more

Video: Cobra Golf KING F8 Iron Tech

KING® F8 Variable and ONE Length™ irons are equipped with COBRA CONNECT™. Automatic shot tracking technology Powered By Arccos™.
Read more

Video: Octagon

The driver face is outdated. TaylorMade thinks its found the solution and sat down with five of its biggest players to see their reactions as the most twisted driver innovation is revealed. Are you ready to see?
Read more
club.news.more