Golf fanatic set to become first person to play every Crazy Golf course in the UK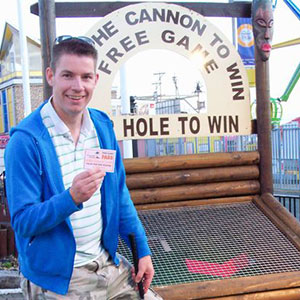 Golf-mad Richard Gottfried is about to achieve his ultimate goal of playing every Crazy Golf course in the UK, with an incredible 640 courses already completed and 60 left to conquer.
The UK currently has 700 crazy golf course dotted around the country, and Mr. Gottfried, 34, who began his challenge nine years ago after winning against his brother, is on the verge of completing every single one.
Richard's wife Emily, 33, has also been bitten by the crazy golf bug and the couple head off on golf road trips every weekend.
Speaking to The Mirror, Richard said: "No one has ever visited every course in the country.
"It becomes an addiction, there are just so many different types of crazy golf courses.
"We've sometimes played on 50 courses in one week.
"We're both quite competitive and we always try to see who can get the most holes in one.
"We love the fact there is such a huge variety of courses on offer. Some are skills based and other are luck based, but they are all great fun."
Richard's passion for crazy golf was lit in 2006 when he visited his brother at university in Southsea, Hampshire. From there things escalated and now he's within reach of making history.
"I won a free game on the lucky last hole, so we went back and played again. Then it all spiralled from there," Richard added.
In the space of just 12 weeks he managed to tee off on an incredible 62 courses between Swanage and Taunton. He also has several favoured crazy golf course venues, which include Hastings as it still offers players the traditional windmill hole among other nostalgic challenges.
Richard is also a big fan of Skegness, which offers nine courses all lined out along the seafront. One of the courses has been there since 1926, making it something of a landmark.
Blackpool is another favourite destination for the couple as that was where Richard won the Crazy Golf Championship a few years ago.
He added: "My hobby has taken us to places in the UK we wouldn't otherwise have visited and it's a really great way to go out and about and explore the country.
"I love the fact you can just turn up and play and give it a go."
So while this year's Open Championship suffers from poor weather conditions, why not take a trip to your nearest crazy golf course and enjoy a fun-filled afternoon with the family. Just make sure you get back in time for the action at St Andrews to start again.
Latest News
OG News: Jarrod Lyle confirms he's in "palliative care"

The golf world, and many out of it, have been left rocked by the news that Jarrod Lyle is going into palliative care after claiming he is "no longer able to fight."
Read more

OG News: Two events left for McDowell to secure PGA Tour card

Graeme McDowell will have just two events to secure a PGA Tour card which would enable him to play in the United States next year after failing to qualify for next week's USPGA Championship in Missouri.
Read more

OG News: Leona & Lisa Maguire sign deals with Puma Golf

PUMA Golf a leader in golf apparel, footwear and accessories are pleased to announce the signing of sisters Leona & Lisa Maguire with immediate effect.
Read more
club.news.more
Latest Videos
Video: Callaway Chrome Soft & Chrome Soft X

Chrome Soft Golf Balls combine Tour-proven performance with unparalleled feel and exceptional mis-hit forgiveness. Everything about the ball that changed the ball is better because of the innovation at every layer, starting with Callaway's groundbreaking new Graphene Dual SoftFast.
Read more

Video: Cobra Golf KING F8 Iron Tech

KING® F8 Variable and ONE Length™ irons are equipped with COBRA CONNECT™. Automatic shot tracking technology Powered By Arccos™.
Read more

Video: Octagon

The driver face is outdated. TaylorMade thinks its found the solution and sat down with five of its biggest players to see their reactions as the most twisted driver innovation is revealed. Are you ready to see?
Read more
club.news.more