PUMA Golf unveils IGNITE Spikeless footwear for men and women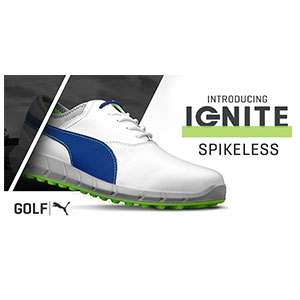 The golfing world is abuzz following PUMA Golf's unveiling of new IGNITE Spikeless golf shoes, created and developed for male and female players.
IGNITE shoes are versatile footwear with fashion-forward style that perfectly complements the TITANTOUR IGNITE range, rounding out the IGNITE Golf collection.
The new line features revolutionary IGNITE Foam; an ultra-responsive cushioning foam designed to maximise comfort while also providing the wearer with a balanced amount of support and stability – resulting in unrivalled performance right through the day.
Some big features which are sure to have golfers eager to grab a pair of these shoes include a modern silhouette (the IGNITE Spikeless is a dynamic take on a classic golf shoe, reengineered to reflect a more casual style), and a sleeker, more refined performance last combined with the new IGNITE Foam for incredible comfort, fit and outdoor enjoyment.
The sole of the shoe features 39 strategically placed hexagon pods that provide multi-directional traction while the 24 chevron shaped lugs increase grip where it's needed most. A performance TPU outsole encases the midsole for lightweight strength and durability, increased flexibility, and superior traction on all surfaces.
Grant Knudson, Head of Footwear at PUMA Golf, said: "The IGNITE family of footwear was designed with comfort in mind.
"Specifically, for the Spikeless version, we drew inspiration from classic golf footwear and combined that with a fashion-forward and sporty design, resulting in a stylish, high-performance shoe that can be worn on and off the course. The full-length IGNITE Foam midsole provides unparalleled cushioning that keeps you comfortable all day, while still providing the perfect balance of support, stability and traction."
With the addition of PUMA's proprietary IGNITE Foam, the IGNITE Spikeless is designed to deliver responsive cushioning, optimal rebound, and superior step-in comfort. IGNITE Foam has a high support factor and compression set that results in both superior cushioning and minimal deformation over time. This new Foam technology is designed to make the shoe more responsive and release energy more efficiently throughout the swing, making IGNITE footwear the most comfortable collection PUMA Golf has ever created.
The PUMA Golf IGNITE Spikeless golf shoes will be available to buy at OnlineGolf from 1st February, 2016. Also available for both men and women golfers.