Review: Footjoy RainGrip Bonus Pack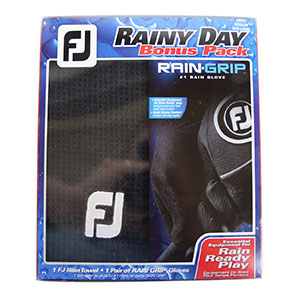 Looking for that perfect wet weather golf set this winter? The FootJoy RainGrip Bonus Pack is everything a player needs to get in a round while being pummelled by rain, snow or any other adverse weather condition.
The FootJoy RainGrip Bonus Pack includes a pair of gloves featuring proven Sure-Grip Autosuede Knit palm which provides unmatched grip in wet and humid conditions to give maximum control to the golfer. Also in the pack is a bonus rain towel, ideal for cleaning for drenched club heads, balls and maybe even rain-pelted faces!
The gloves give a perfected fit for all golfers thanks to having ComforTab closure with dual-elastic bands ensure precise fitting every time.
Excellent QuikDry knit material also adds to the overall comfort as the innovative material assures the highest level of breathability, flexibility and quick-drying comfort.
As a very special added bonus, these quality golf gloves have an easy access tee holder with golf tee. And don't forget the equally awesome rain towel, which will help keep everything – including yourself – entirely dry during a round!
The FootJoy RainGrip Bonus Pack is available now from OnlineGolf are would make the perfect Christmas gift for any golf enthusiasts or special treat for yourself.