5 reasons you should be wearing GOLFINO clothing
Ladies! Looking and feeling great on the golf course is a sure way to gain confidence in your game, and that starts with getting the right attire into your wardrobe.
GOLFINO has been making golfers look and feel good on the golf course for years thanks to its premium designs and top-quality apparel lines. This is a brand that understands just how important confidence is when playing a round – and also how to look great while doing it.
Here's 5 reasons why we think you should be wearing GOLFINO clothing this season.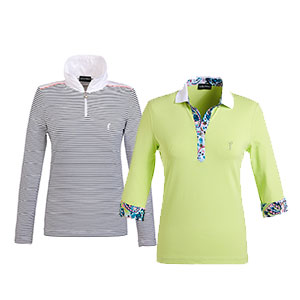 A great range of products
GOLFINO and OnlineGolf have an excellent relationship which means we get only the very best attires for lady golfers to wear on the greens. And it doesn't end with clothing – we also stock a great range of GOLFINO gloves and belts to really add those finishing touches to your outfits.
It's premium wear!
Every time you pull on a piece of GOLFINO attire if feels like you're wearing another layer of skin, it's that comfortable. Premium brands such as this means that players never need to worry about their clothing under-performing. Some GOLFINO clothing is waterproof, while other ranges are perfect for summer golf days.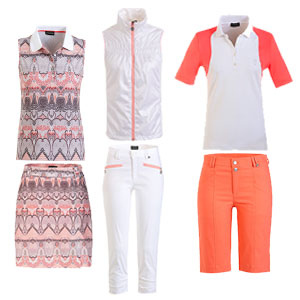 Wear it on and off the golf course
Some sportswear is created just to look good on the golf course. GOLFINO has managed to make its clothing lines look good anywhere! After a few rounds, take a trip to the shops or the bars and enjoy the 24/7 comfort afforded by wearing clothing adorned with the iconic GOLFINO logo.
The accessories are crazy nice
Add a GOLFINO belt to your look and immediately upgrade it from nice to awesome! GOLFINO has an excellent range of accessories, but belts and gloves are by far the best – and most popular – with female golfers the world over.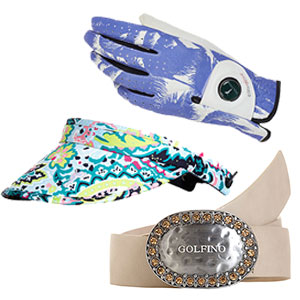 Worn by the pros
Many LPGA players love wearing GOLFINO clothing, and this can be a very good indicator about how good a brand really is. If the clothing isn't up to scratch then who will wear it? The fact so many female golfers on Tour today love and endorse GOLFINO clothing ranges says everything you need to know about GOLFINO quality clothing.
Check out the full range of GOLFINO products we have available now at OnlineGolf.