Callaway XR OS Golf Irons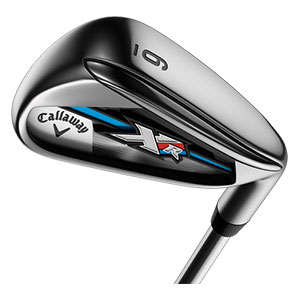 Producing high-performance, forgiveness-driven seems to come naturally to Callaway. With a tremendous ranges already in the history books, the brand's newest release of the XR OS Irons looks to continue that winning run.
Callaway places its Cup 360 technology into these irons, and that has helped the company redefine golf ball speeds and helped the brand to become the No.1 iron in golf. Now the company has made its irons even faster.
Multi-piece construction and a new heat treatment in the face cup for even more golf ball speed really gives the OS irons a kick, while a soft heat treatment on the body delivers greater feel and performance.
The Callaway XR OS Irons were created to be even easier to hit than ever before thanks to lower centre of gravity being placed further back in the shaft, thus making it easy for players to get a ball flight that leads to more distance more often.
Callaway's OS Irons include progressive lengths and lofts through the entire set – extending the launch and distance in every club and helping players gain maximum distance from their shots.
The XR OS Ions offer greater forgiveness; the soles are wider and will give far better forgiveness while it's also easier to get more distance from any impact location. If you're looking for some serious help during your game, these irons are perfect for lowering scores and upping confidence.
The Callaway Golf XR OS Irons are available from OnlineGolf today.