The OnlineGolf 2018 Buyers Guide to Golf Wedges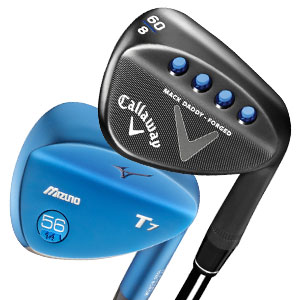 Choosing the correct set of golf wedges, in the right lofts and lies, with ideal shaft length and flex, will help you achieve better results on the golf course. If you aren't sure which wedges to put in the bag this year, or if you're curious to see which new models are on the market, this buying guide is for you.
In this informative buying guide, we will give you all the advice necessary to improve your skills using wedges, while also suggesting some top brand clubs which come highly recommended.
Understanding loft in a golf wedge
Loft indicates how far the golf ball will travel through the air once you've made a hit. It also measures the trajectory said shot achieves. The more loft a golf ball has when it leaves the golf club face, the higher the trajectory is going to be. So, if the initial trajectory is very high, then the golf ball will travel a short distance in front, as opposed to less loft and considerably further golf ball flight.
Golf wedges are the most lofted golf club in the bag. When utilised in the right way, they can really improve your results. The loft options available are below.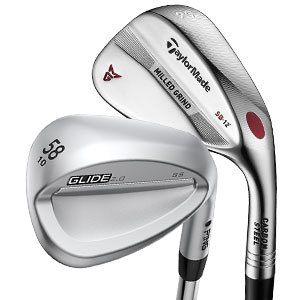 Benefits of Bounce
Bounce is the curvy part on the sole of the golf wedge that allows the club head to 'bounce' out of sand or rough without sagging. A golf wedge that has the correct amount of bounce and loft can give your game a huge lift--and is especially useful for short-game players.
It is less likely you will find a wedge with a bounce higher than 18 degrees, but it is possible you'll find one with a bounce as low as 2. The three variations that can affect a golfers' game are Low, Standard and High.
Low Bounce Wedges
Golf wedges that promote low bounce are suitable shots for shots made from tight lies and firm turf conditions. The combination of having less bounce and narrower sole-width lowers the leading edge of the blade for a cleaner, crisper contact with the golf ball.
This is great for golfers who have a creative flair on the greens and in the bunkers, but who also have shallow attack angles through impact. Less bounce and a narrower sole width makes it much easier to open the face and hit high, soft landing flop shots. Lower bounce golf wedges are found in lower loft ranges such as Pitching and Approach golf wedges used for longer approach shots. More golfers benefit from having more bounce (10 to 14 degree) as opposed to less.
Standard Bounce Wedges
The standard bounce golf wedge is perfect for all conditions, and works for most golfers, making it an all-round playable club. It will even suit the more creative players, it's that versatile!
High Bounce Wedge
High bounce golf wedges are great for golfers with a steep attack angle, and have been designed to play out of soft turf and sand. The combination of the wider flange and higher bounce angle prevent digging, helping create smoother gliding action of the sole along the ground. A high bounce wedge will play exceptionally well out of soft sand for golfers who prefer to keep a square face through impact. High bounce golf wedges are often associated with higher lofts, although this is not always the case.