The OnlineGolf 2018 Buyers Guide to Golf Sweaters
Golf sweaters are popular with players looking for some warmth and comfort on the greens. Perfect for any weather condition, a golf sweater is both a simple 'middle ground' layer for those fresh mornings on the golf course, as well as being a stylish alternative to everyday outwear.
This buying guide to golf sweaters will give you all the information about sweater materials, which brands are best for your game, and a wealth of other useful hints and tips.
Golf sweater materials
Golf sweaters are made from fine material to give them a proper performance on the greens, expertly crafted to allow for lightweight fit with easy movement. Sweaters are made from some of the biggest brands in the world, and are available in a variety of materials. Below is a selection of golf sweater materials which work exceptionally well on the golf course.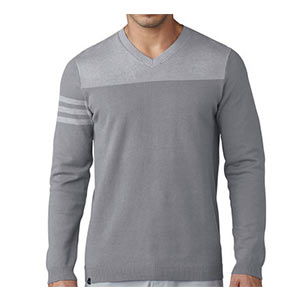 Polyester
Polyester is an all-rounder when it comes to comfortable, warm, and lightweight golf sweaters. Used mainly in home furnishings due to its brilliant durability and appeal, polyester is ultra-comfortable and unrestrictive. Golfers wear polyester safe in the knowledge they're completely protected from the elements – with the material coming into its own as an insulating, cushioning material.
Some of the best polyester golf sweaters on the market include the Under Armour Storm Fleece Sweater, PUMA Golf PowerWarm Popover Sweater, adidas Golf 3-Stripe V-Neck Sweater, Nike Golf Dri-Fit Knit Sweater, Oscar Jacobson Pock Tour Sweater, PUMA Golf Core Popover Sweater, Callaway Golf Waffle Fleece II Sweater and Footjoy Chill-Out Sweater
Fleece
Making great attire for the golf course, fleece material lends protection from cold weather by sucking in warmth and pushing out the cold. Clothing made from fleece is often very stylish and easy to move about in, and it is commonly associated with pullovers or jackets. A fleece can go with practically anything in your golfing wardrobe and should be worn on those below-average cold days.
Lambswool
Lambswool is ultra-soft, slightly slippery and elasticised, and can be found in more high-society attires. If a golfer can afford a lambswool sweater then you can bet they'll buy one, it's just that comfortable. Lambswool is also warming, highlighting very snug feel in even terribly cold weather and icy conditions.
Nike
,
adidas
,
Callaway
,
PING
,
PUMA
,
Stuburt
,
FootJoy
,
Palm Grove
,
Under Armour
,
Galvin Green
,
Green Lamb
,
Benross
,
GOLFINO
,
Calvin Klein
,
Oscar Jacobson
,
Daily Sports
,
Lyle & Scott
.