The OnlineGolf 2018 Buyers Guide to Golf Windshirts
You might not have any control over the weather, but that doesn't mean you can't be prepared for whatever the weather throws your way. Golf windshirts are made by the biggest brands in the world and will give you comfort, warmth, protection and style so you can enjoy your golf game no matter how adverse the weather decides to be.
We've all been there; having to plough through a round with the wind whipping up your hair and twisting the golf club from your hands every time the perfect swing is being set up. Those cold blustery winds don't care they've just put you off, oh no; it chills you too, so your fingers are cold and your body unresponsive. This can bring down a good game of golf, so what can you do about it? How about getting your arms (and the rest of your upper body!) into a golf windshirt! This useful buying guide will help you make the best decisions for game on the greens with helpful hints and tips on the best attires and their uses.
Windproof protection clothing
A good piece of windproof attire reduces coldness in the body and improves playability on the golf course. Here we offer some useful advice and tips for wearing windshirts and getting the most out of your clothing.
First a quick rundown of what windproof clothing is. Windproof clothing is the protective layer that keeps coldness off the skin to leave you feeling warm and comfortable. The best outdoor wind clothing should be lightweight in construction and the furthest thing from a heavy jacket. They are highly breathable attire which remains cool enough so that golfers don't overheat and have to expose their skin to the elements – windproof clothing keeps you cool enough yet entirely snug throughout the entire day.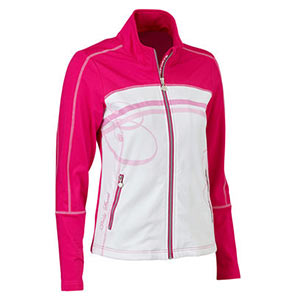 Windproof is not waterproof – but it's pretty close
Windproof clothing is not waterproof, so if you play in severely wet conditions then chances are windproof attire will be ineffective and you'll catch a cold on top of your bad mood. However, some windproof clothing is treated with Teflon to offer slight protection from rain but this is not guaranteed and should only be worn to keep warm in the cold. Windproof clothing is less expensive than waterproof clothing and will assure warmth in very cold, dry temperatures.
Windshirts also eliminate the need for wearing large, heavy or restrictive jackets on the golf course as these will weigh you down and cause unnecessary overheating. It will also make swinging golf clubs a real challenge, while windshirts are specially designed to make it easier.
Choosing the perfect windshirts
Nestled among the wealth of outdoor golf clothing we have available at OnlineGolf, sometimes golfers just want to know what the best attire is; so we're going to give you some of our favourite ranges as good examples of what you should be looking at this year and beyond.
Short-sleeve and vest windshirts are more popular during the warmer seasons of the year. They keep the wind off a player, but offer no protection for the arms. The Calvin Klein Cyclone Padded Gilet, Under Armour Reactor Hybrid Vest, Under Armour Ladies 3G Reactor Vest, Under Armour Storm WindStrike Vest, Under Armour Storm 3 1/2 Sleeve Waterproof Jacket, Callaway Golf Chest Stripe Wind Jacket, Stuburt Ladies Response Padded Gilet.

Long-sleeve, jacket or jumper windshirts are widely worn both on and off the golf course, and come in a variety of designs. Some of these windshirts have waterproof capabilities, but the main focus of these attires is to keep the player warm and comfortable during their game. The Nike Golf Dri-Fit Windshirt, Calvin Klein Interstellar Tech Windshirt, adidas Golf Competition Stretch Windshirt, Lyle & Scott Huntley Windshirt, Green Lamb Jeanette Ladies Jacket, adidas Golf Club Vest, Daily Sports Leja Ladies Windshirt, Galvin Green Dwayne Sweater, Callaway Golf Full Zip Ladies Wind Jacket, PUMA Golf Colourblock Ladies Windshirt, FootJoy Chill Out Sweater, FootJoy Performance Windshirt, Galvin Green Bart WINDSTOPPER® Jacket and Callaway Golf Block Thermal Jacket are some of the very best windshirts for 2017, and should be considered for outdoor sport, especially golf.
View the full range of golf windshirts now, or view the range by brand, including Nike, adidas, Callaway, FootJoy, Stuburt, PING, Mizuno, Benross, PUMA, Daily Sports, Under Armour, Oscar Jacobson, GOLFINO, Green Lamb, Galvin Green, Stromberg, Calvin Klein.