2017 Training Aids, Mats & Nets
Consistency is vital for all golf athletes wanting to improve their performance on the greens. Striving for better performances each time we step foot onto a golf course will really help you improve.
However, unless you're a golfing pro (and, let's face it, we all think we could be), then chances are you aren't really consistent on the golf course. And as most of us lead very busy schedules, just getting in an hour a week is a stretch for some people. Training aids do, however, offer us a way of keeping consistency within reach without having to take time out of our schedules.
This buying guide to training aids, mats and nets will give you all the information you need on improving long and short game performance, while also offering a range of top quality products to help you along the way.
Long-game training
Full-size practice nets are ideal for long game play, and are perfect for setting up in the back garden. With people's lives far too busy for leisure, the driving range isn't always the most viable option. With a driving net in the back garden, you are able to give yourself a few minutes in the morning or evening to hone those skills, so you remain sharp when playing a few rounds. These practice nets and driving ranges are well suited to dual surface driving mats and emulate hitting golf balls out the rough, off the tee, or from the fairway.
Some of the best long-game training aids available for golfers to use in the comfort of their own home include the SKLZ Quickster Chipping Net, PGA Tour Pro Driving Net, Links Choice Practice Net, Masters Golf Pop Up Chipping Practice Net and SKLZ Practice Net.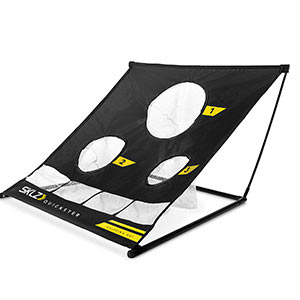 Short-game training
The short game is one of the most important aspects of a golfers' game, so having a chipping net set up either in your spare room, office, or back garden, offers essential short game benefits to keep you sharp and prepared. Foam golf balls are also available to remove that terrible inevitability which can occur when hitting something solid around a room filled with priceless ornaments. Practicing short game is a fun and rewarding exercise which can all but eliminate fat or thin slice shots on the golf course.
Among other short-game training aids, the Masters Golf Pop Up Chipping Practice Net and SKLZ Quickster Chipping Net can all really help golfers improve their skills for the golf course.