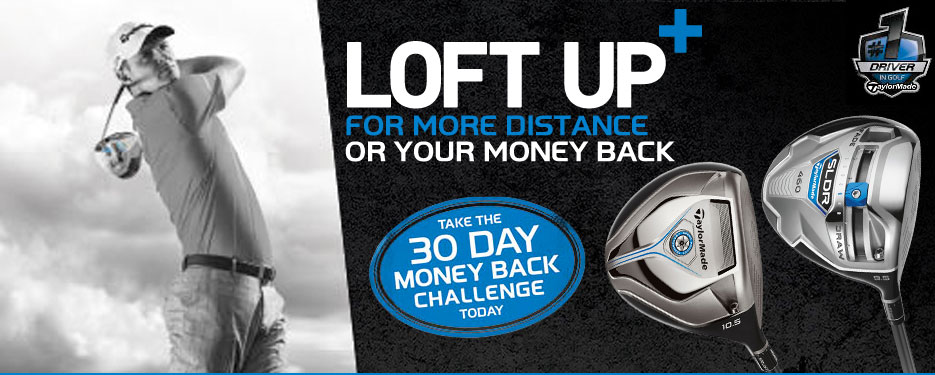 WHAT IS THIS ABOUT?
Taylormade Golf Limited together with OnlineGolf are running a loft satisfaction promotion. If you purchase a new TaylorMade SLDR or JetSpeed Driver and you think the loft is either too high or too low then return it to your retailer and they will exchange it for a like for like driver with a different loft of your choice or they will reimburse the price you paid for the driver. This promotion is subject to the following rules.
WHAT'S THE CHALLENGE?
You will have 30 days from the day you purchase the TaylorMade SLDR or JetSpeed driver to "try it out". If during that 30 day period you feel the loft is not right for you and/or you have not gained additional distance then you can return the TaylorMade SLDR or JetSpeed driver to the retailer to exchange it for the same model of driver but with a different loft or get the money you paid for that driver back.

WHO IS ELIGIBLE TO JOIN THE PROMOTION?
You are if:
You are 18 or over and are resident in the UK & Ireland;
You purchase one TaylorMade SLDR or JetSpeed Driver from OnlineGolf, at the standard price, between 1st March and 30th April 2014;
You are an individual golfer purchasing the Driver for your personal use and are not purchasing it in a business capacity or for a business purpose for example with the intention of reselling the driver.
You retain the purchase receipt for the SLDR or JetSpeed driver provided by OnlineGolf which clearly shows the date you purchased it and the amount paid.
You make no alterations to the driver for example replacing the shaft/grip with a different shaft/grip
HOW DO I CLAIM MY MONEY BACK?
You need to contact the OnlineGolf store from whom you purchased the Taylormade SLDR or JetSpeed driver within 5 weeks of the date you purchased the Driver;
You need to return to the retailer:
The driver together with the accompanying wrench and instruction booklet and original packaging; and
The purchase receipt.
You need to fully complete and sign an exchange request form (which OnlineGolf will have).
Only one exchange request will be accepted per person (regardless of mailing address, and duplicate entries will be disqualified).
PLEASE NOTE: The SLDR or JetSpeed driver must be the one you purchased from the retailer and must be in good condition. The driver should not be damaged, severely marked, broken, modified or tampered with in anyway, only signs of fair wear and tear will be accepted. The condition of the driver will be determined by the retailer.