Giving our customers a voice

Who are Reevoo?
Reevoo are the independent company that we trust to give our customers a voice. All reviews that are collected by Reevoo are completely unbiased, and we have no control over their process; what you see is what our customers are truly saying. It's advice you know that you can trust!
All reviews by 100% genuine customers, who have bought the product
No chance of fake reviews. Only verified customers get sent the survey
All reviews are published – You see the good and the bad
No reviews are edited, though we do try to respond where suitable
How does it work?
Email

When an order is placed, we tell Reevoo. They send the customer an email and survey so everyone who buys gets their say.
Survey

The survey takes less than 5 minutes to complete and has space to tell us your thoughts as well as give us a score.
Moderation

Reevoo moderate the responses but only to ensure that no bad language is used. Rejected responses can be re-submitted.
Publish

Reevoo publish the review within 72 hours so that all of our other customers can benefit from the feedback.
Where to find the reviews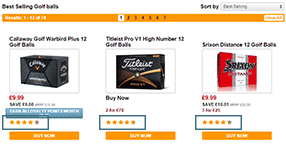 When browsing our site, you will see the average rating based upon previous reviews from confirmed purchasers of this product. This gives you an immediate snapshot of what others think about it.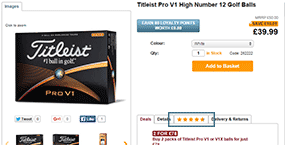 Detailed comments can be found in the review section of the product page. You can even send a question to a confirmed purchaser who is well placed to give you more information
about the product.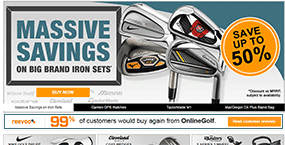 It's not just our products that are reviewed. All surveys include a section about OnlineGolf as a company and how enjoyable it was to shop with us. These reviews can be found by clicking the link on our homepage.