OnlineGolf's World's Most Dangerous Courses
Whilst many of us love nothing more than a gentle round of golf to relax, there are a few courses around the world where the risk of death turns it into well, more of an adrenaline sport. Carnivorous crocodiles, live mines, active volcanoes and maximum-security prisoners are all very real threats and several have actually claimed the life of an unsuspecting golfer or two.
So why not forgo the worry of rabid animals and axe-wielding inmates, and simply have a read of the gory details from the comfort of your own home? Have a look at our 9 Most Dangerous Golf Courses from around the world and see which one takes your fancy for your next weekend away (we're guessing probably none of them).
1. Camp Bonifas, South Korea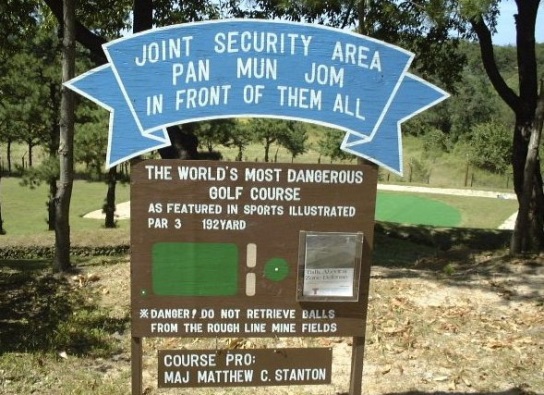 Heralded by Sports Illustrated and pretty much anyone who classes live mines as dangerous, Camp Bonifas has well and truly earned the official title of 'World's Most Dangerous Golf Course'. Sitting slap bang in the middle between the Korean Demilitarised Zone and a South Korea Army base, the former UN command post plays host to a humble one hole, but knowing that the rough surrounding the astroturf is filled with live landmines left over from the Korean War, means that one hole is probably enough.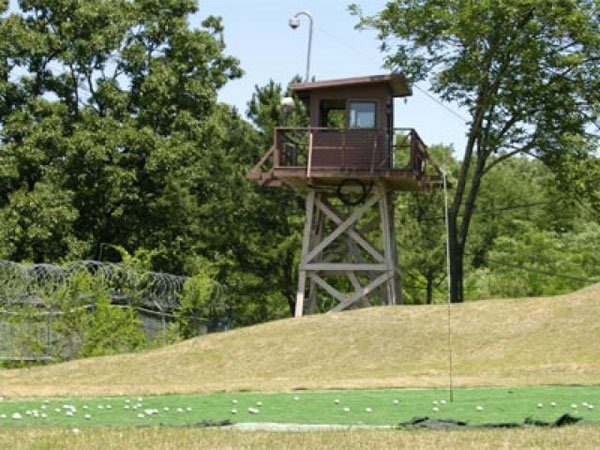 Built in 1972 to aggravate the North Koreans, the course is named after a soldier killed nearby in the line of duty. The course remains watched over by machine-gun nests and miles of barbed wire, making for a less than inviting setting. Both American and Korean soldiers as well as civilian tourists have played the course, but if you're considering Camp Bonifas for your next golfing weekend you'll have to pass through areas surrounded by armed North Korean soldiers and sign a waiver accepting that 'serious injury or death' are very real possibilities of your game.
You'd better have a good shot if you do decide to mosey down for a round though, as retrieving balls is forbidden and the rough is littered with abandoned golfing equipment, waiting to be blown to smithereens at any given minute. Sounds fun, right?
2. Skukuza Golf Course, South Africa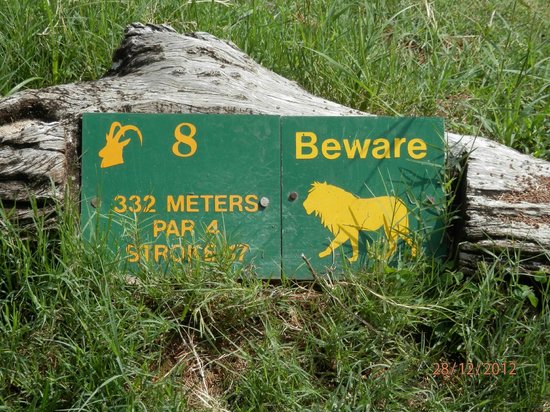 Few things can ruin a sunny afternoon spent perfecting your swing, but a carnivorous, rampaging hippo ought to do the trick. Built in 1972, the 9-hole Skukuza Golf Course in the world-renowned Kruger National Park, South Africa, is entirely unfenced, meaning wild animals (lions, leopards, rhinos – the usual) regularly wander onto the course.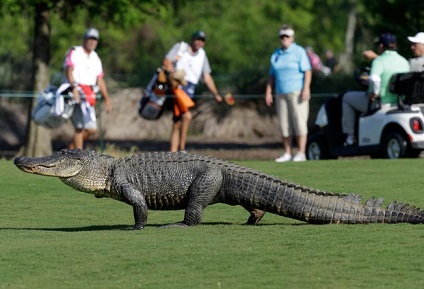 Hole 9 is played across the aptly named 'Lake Panic', home to a family of hippopotamuses and where, last year, a player was killed by a crocodile whilst retrieving balls from lake. A comforting sign reads, "Do not run away! If you run, the animal will believe that it has gained the advantage and it will be more likely to give chase" and whilst player injuries and attacks are fairly rare, the unfortunate staff regularly sustain injuries due to the less than amicable animals.
3. Merapi Golf Course, Indonesia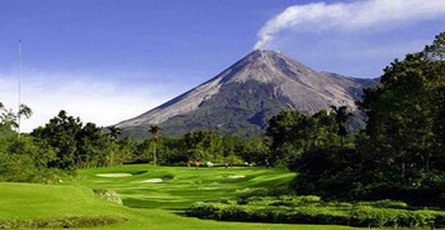 With breath-taking views of surrounding Indonesian forests, unspoilt fields, and majestic mountains, the Merapi Golf Course in Indonesia is one of natural beauty, peace and spirituality; you can almost hear the soothing panpipe music. The only slightly concerning factor that may upset your inner Zen is the great big smoking volcano beside you. This isn't one of those 'oh it's perfectly harmless, hasn't erupted in a billion years, get your souvenir picture here' type volcanoes. Oh no, this volcano is active with a capital A, and erupts regularly, most recently in 2010 where it killed 122 people. Signs appear all around the course warning of its dangers and that, unsurprisingly, play will be stopped if it erupts.
4. Prison View Golf Course, Louisiana State Penitentiary, USA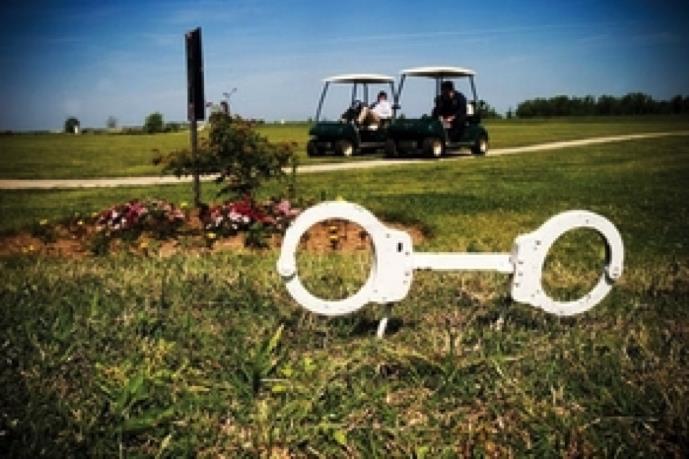 Serving as the inspiration for The Green Mile and once known as the 'bloodies prison', Louisiana State Penitentiary is the only maximum security prison in the state, with nearly all of its inmates either on death row or serving life sentences. Do those sound like the kind of gentlemen you'd like staffing your golf course? Well, the prison has its very own 9-hole golf course, managed and run by the inmates (who are forbidden from playing).
However, if you're after a tee time here, you'll need to submit your details for screening 48 hours in advance and hand over cameras, maps and other items before playing. Play can be suspended at any time and has been several times due to riots, attempted breakouts, and various other emergencies.
5. Uummannaq Golf Course, Greenland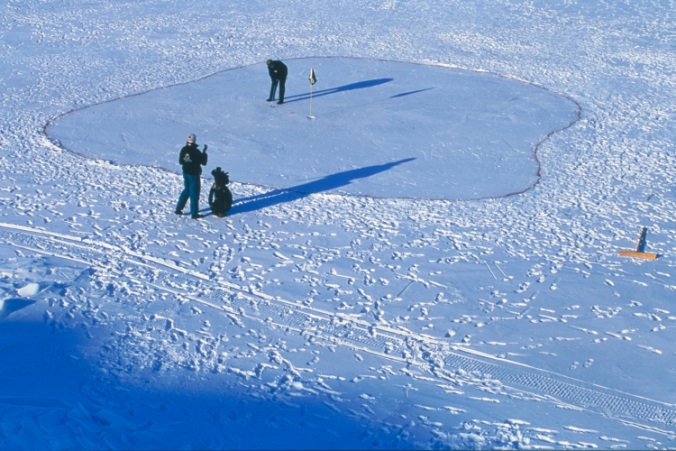 Known as the coldest and most northerly golf course in the world, the Uuummannaq Golf course lies 600km north of the Arctic Circle, and since 1997 has played host to the World Ice Golf Championships. So I think we can safely assume it's more than a little chilly; in fact, the course changes every year as it's played on a moving glacier. Bright orange balls are used for obvious reasons, and graphite clubs are banned due to the fact the cold can snap them in half. If all this wasn't a tad troubling, like Camp Bonifas, players must sign a waiver agreeing to possible death in the frequent, wait for it, -50°C temperatures.
6. Furnace Creek Golf Course, Death Valley, California, USA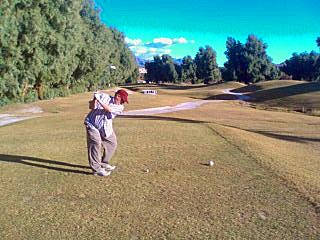 On the other side of the coin we have Furnace Creek Golf Course in Death Valley. With inviting words like 'furnace' and 'death' you'd be a fool not to immediately rush out to Cali with clubs and a few gallons of water in tow. This 18-hole course is the lowest course in the world and is nestled right in Death Valley – the hottest place in the world. Here the mercury can climb as high as 60 degrees Celsius, so the name is more than fitting. Visitors are often rescued by helicopter due to dehydration, and in 2011 the course hosted the Heatstroke Open where brave (or stupid) players faced 50 degree heat.
7. La Paz Golf Course, Bolivia, South America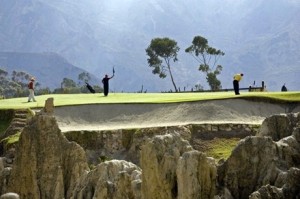 Now for the highest course in the world: La Paz Golf Course in Bolivia. Sitting at a dizzying 11,000 feet this gives you a real chance to play in the clouds and take in some seriously stunning scenery. However, the high altitude can make play a little tricky; breathing difficulties and lack of oxygen might become more of a concern than getting the ball in the hole. Altitude sickness is also a problem, thus all golfers are strongly advised to bring a caddy round with them, to minimise the amount of oxygen you use. Despite all the lack of oxygen and extreme nausea there is a bright side to all this; the paper thin air means your ball moves a heck of a lot faster, so you need only muster the strength for the tiniest of swings before collapsing to the floor clutching an oxygen mask.
8. Carbrook Golf Club, Brisbane, Australia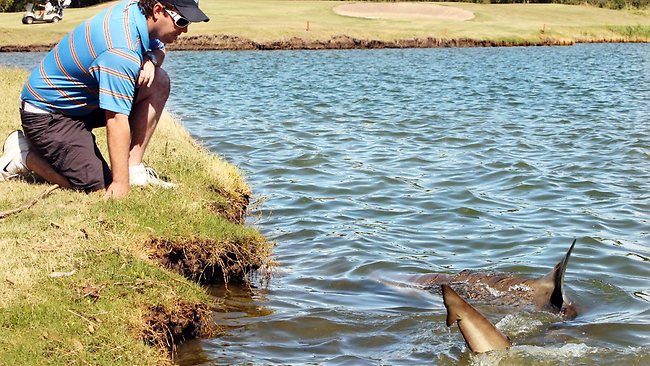 Water hazards always present a challenge for even the most seasoned player, but the 14th tee at Carbrook Golf Club in Brisbane is, well, a little more intimidating than most. This can be credited to the half a dozen huge, man-eating bull sharks that reside in the murky waters in what's thought to be the world's first shark-infested course. After a nearby river burst its banks a few years ago, the sharks found their way onto the course and have set up home for themselves, even breeding, so more and more ominous fins glide along the surface of the water. The staff are big fans of the sharks though and whilst the water is filled with fish, they often chuck meat in for them and have even started a monthly tournament, the aptly named, 'Shark Lake Challenge'.
9. Kantarat, Don Mueang International Airport, Bangkok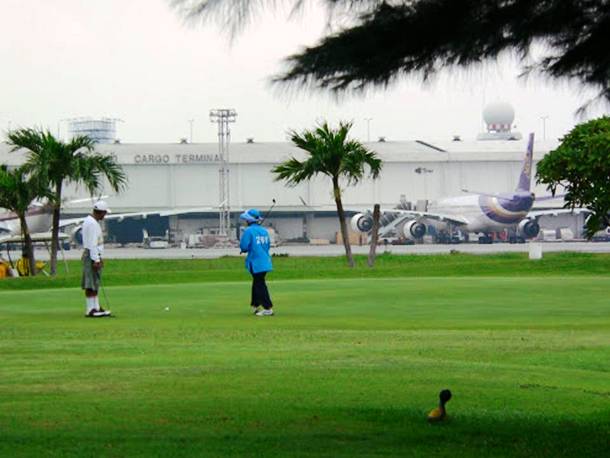 (Fair)way to the Danger Zone! Whilst many a golf course has been built near an airport, there aren't many that have been built slap bang in the middle of two major runways. Kantarat is an 18-hole course, literally on the airstrip at Don Mueang Airport and is owned by the Royal Thai Air force meaning it has extra high security. Golfers must wait for a red light to allow them to pass from hole to hole.
Have you got a heart-stopping, adrenaline-pumping golfing story that tops any of those? If you've had a brush with death on the fairway, let us know below...
Latest News
OG News: Paul Casey reveals Ryder Cup dream

Paul Casey once turned his back on the European Tour after being snubbed in 2010, but now the 40-year-old is back for one final roll of the dice – and he hopes it ends in Paris.
Read more

OG News: McDowell falls out of world top 200

Graeme McDowell has slipped outside the world's top 200 golfers for the first time since 2004 after missing the cut in the Abu Dhabi HSBC Championship.
Read more

OG News: Coach would be 'shocked' if Tiger doesn't win in 2018

As we gear up for Tiger Woods' first official PGA Tour start in a year next week, a leading golf coach says he'd be genuinely 'shocked' if the 14-time major winner failed to win this season.
Read more
club.news.more
Latest Videos
Video: Callaway Chrome Soft & Chrome Soft X

Chrome Soft Golf Balls combine Tour-proven performance with unparalleled feel and exceptional mis-hit forgiveness. Everything about the ball that changed the ball is better because of the innovation at every layer, starting with Callaway's groundbreaking new Graphene Dual SoftFast.
Read more

Video: Cobra Golf KING F8 Iron Tech

KING® F8 Variable and ONE Length™ irons are equipped with COBRA CONNECT™. Automatic shot tracking technology Powered By Arccos™.
Read more

Video: Octagon

The driver face is outdated. TaylorMade thinks its found the solution and sat down with five of its biggest players to see their reactions as the most twisted driver innovation is revealed. Are you ready to see?
Read more
club.news.more