Pros advice
Spieth loses cool with professional autograph seekers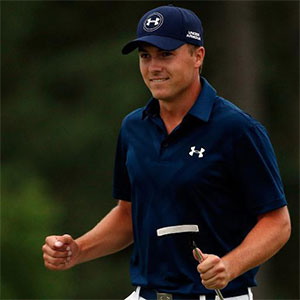 After finishing his round, the group of males started to hurl insults in Spieth's direction when he walked past them without stopping to sign. The 23-year-old two-time major winner then spun on the men, accusing them of trying to profit off his name by selling items online, adding he'd been investigating evidence of such goings-on.
"It's not really worth me spending time arguing, but I'm just not really appreciative of people who travel to benefit off of other people's success," Spieth told reporters after the incident. "I enjoy signing and I sign for kids whenever we get the chance. But these guys have these items that you've already seen online.
"Our team keeps track of that kind of stuff, and these guys just have bags of stuff to benefit from other people's success when they didn't do anything themselves. Go get a job instead of trying make money off of things we've been able to do."
And when Spieth stopped to sign an autograph for a young boy, things escalated, with one of the men using an "F-bomb in front of the kids", which caused him to get pretty angry and confront the men, saying, "C'mon, guys, there are children here."
However, that did not perturb the men, who continued throwing obscenities.
"I felt the need to turn around and tell them that wasn't right," Spieth said. "A couple of them were saying, 'You're not Tiger Woods, don't act like you're Tiger.' But here he's still trying to benefit off me and I'm not even Tiger Woods. What does that say about you? So yeah, I get into it here and there. I was just a little frustrated at the end, and I didn't appreciate the language that was used. It was just some scums that bothered me.
"If you ask anybody universally, it's frustrating and they frustrate us," he said of those types of autograph seekers.
Spieth has started this year in good form, despite dropping one place in the World ranking to No.6. He finished third at the two Hawaii events, and tied for ninth in Phoenix.
Latest News
OG News: Jarrod Lyle confirms he's in "palliative care"

The golf world, and many out of it, have been left rocked by the news that Jarrod Lyle is going into palliative care after claiming he is "no longer able to fight."
Read more

OG News: Two events left for McDowell to secure PGA Tour card

Graeme McDowell will have just two events to secure a PGA Tour card which would enable him to play in the United States next year after failing to qualify for next week's USPGA Championship in Missouri.
Read more

OG News: Leona & Lisa Maguire sign deals with Puma Golf

PUMA Golf a leader in golf apparel, footwear and accessories are pleased to announce the signing of sisters Leona & Lisa Maguire with immediate effect.
Read more
club.news.more
Latest Videos
Video: Callaway Chrome Soft & Chrome Soft X

Chrome Soft Golf Balls combine Tour-proven performance with unparalleled feel and exceptional mis-hit forgiveness. Everything about the ball that changed the ball is better because of the innovation at every layer, starting with Callaway's groundbreaking new Graphene Dual SoftFast.
Read more

Video: Cobra Golf KING F8 Iron Tech

KING® F8 Variable and ONE Length™ irons are equipped with COBRA CONNECT™. Automatic shot tracking technology Powered By Arccos™.
Read more

Video: Octagon

The driver face is outdated. TaylorMade thinks its found the solution and sat down with five of its biggest players to see their reactions as the most twisted driver innovation is revealed. Are you ready to see?
Read more
club.news.more