Winning a major is Rickie Fowler's main focus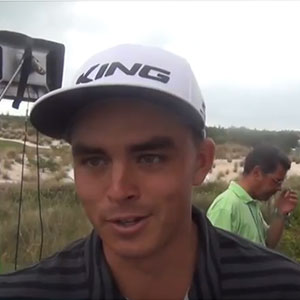 Last year Rickie Fowler showed the world he can golf with the best of them. This year he wants to win a major championship – which would help him be considered as good as Jason Day, Jordan Spieth and Rory McIlroy.
The 27-year-old American is sixth in the World Rankings, and is part of a group of talented young players who have recently surged up the ranks to dominate the game.
"I may not be ranked as high as them, but I'm close," said Fowler. "A major would help me become a solid part of the talk. The last two years have been very good steps for me to continue to move forward by having the finishes that I did in the majors in 2014 and to get the wins that I did last year."
Fowler won three tournaments in 2015, including the Players Championship. But he has found a constant wall put up whenever he begins to pull clear of the crowd, namely Spieth, Day and McIlroy.
"The game has continued to get better. I feel like I played very well through the last half of last year, through the fall, and I'm really looking forward to getting 2016 started.," Fowler said.
"In the Bahamas and Kapalua, shooting I think 20- and 21-under, I didn't come close to a win. Just shows you how good the guys are playing. You have to be on top of your game to have a chance."
Who knows; perhaps 2016 could finally be Rickie Fowler's year.
Latest News
OG News: Jarrod Lyle confirms he's in "palliative care"

The golf world, and many out of it, have been left rocked by the news that Jarrod Lyle is going into palliative care after claiming he is "no longer able to fight."
Read more

OG News: Two events left for McDowell to secure PGA Tour card

Graeme McDowell will have just two events to secure a PGA Tour card which would enable him to play in the United States next year after failing to qualify for next week's USPGA Championship in Missouri.
Read more

OG News: Leona & Lisa Maguire sign deals with Puma Golf

PUMA Golf a leader in golf apparel, footwear and accessories are pleased to announce the signing of sisters Leona & Lisa Maguire with immediate effect.
Read more
club.news.more
Latest Videos
Video: Callaway Chrome Soft & Chrome Soft X

Chrome Soft Golf Balls combine Tour-proven performance with unparalleled feel and exceptional mis-hit forgiveness. Everything about the ball that changed the ball is better because of the innovation at every layer, starting with Callaway's groundbreaking new Graphene Dual SoftFast.
Read more

Video: Cobra Golf KING F8 Iron Tech

KING® F8 Variable and ONE Length™ irons are equipped with COBRA CONNECT™. Automatic shot tracking technology Powered By Arccos™.
Read more

Video: Octagon

The driver face is outdated. TaylorMade thinks its found the solution and sat down with five of its biggest players to see their reactions as the most twisted driver innovation is revealed. Are you ready to see?
Read more
club.news.more