Tiger's new sponsor is a curious choice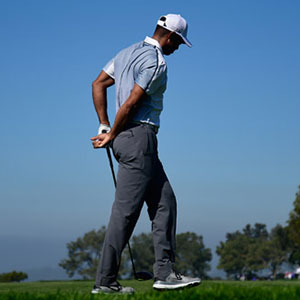 Tiger Woods is stepping back onto the golf course after another long injury hiatus, but many fans of the game seem more interested in his newest sponsorship deal.
Monster Energy is deeply rooted in the sports sponsorship world, getting its name plastered across mixed martial arts, skiing, motocross, surfing, skateboarding, bull riding and a host of other motor sports. It has become well known as a sponsor which rewards adrenaline junkies, so its leap into golf—though not a great surprise with how much money is involved—still seems an odd match. Especially when its sponsoring a player like Tiger Woods.
Monster has scratched its iconic logo onto Tiger's bag, and the golfing world is bemused to say the least. The issue, of course, is not whether this is a good brand to be put on golf equipment, but rather why align with a player who is nearly 41-years-old, injury-prone and most definitely lacking in energy?
Monster becomes the seventh brand to have its logo on the bag of one of the world's most visible athletes, following MusclePharm, Titleist, Fuse Science, Buick, AT&T and Nike.
Woods isn't the first golfer to sign with an energy drink as a sponsor, though at almost 41 years old he doesn't exactly land squarely in the company's target demographic of teens.
Woods, however, seems happy with the deal, even joking with the press: "I know that I'm not going to be doing any half pipes or anything. I have energy, but just not like that."
Rickie Fowler, partnering with market share-leader Red Bull, certainly seems a more logical fit. He's only 27, and hugely popular with the younger generation of golf fans. Plus, Fowler has a background in motocross, despite ditching the dirt bike for a golf bag at the age of 14.
Jim Furyk regards 5-Hour Energy among his sponsors, though the product isn't really an energy drink in the same way as the others already mentioned.
Time will tell if Monster Energy can energise the sleeping giant that is Tiger Woods.
Latest News
OG News: Jarrod Lyle confirms he's in "palliative care"

The golf world, and many out of it, have been left rocked by the news that Jarrod Lyle is going into palliative care after claiming he is "no longer able to fight."
Read more

OG News: Two events left for McDowell to secure PGA Tour card

Graeme McDowell will have just two events to secure a PGA Tour card which would enable him to play in the United States next year after failing to qualify for next week's USPGA Championship in Missouri.
Read more

OG News: Leona & Lisa Maguire sign deals with Puma Golf

PUMA Golf a leader in golf apparel, footwear and accessories are pleased to announce the signing of sisters Leona & Lisa Maguire with immediate effect.
Read more
club.news.more
Latest Videos
Video: Callaway Chrome Soft & Chrome Soft X

Chrome Soft Golf Balls combine Tour-proven performance with unparalleled feel and exceptional mis-hit forgiveness. Everything about the ball that changed the ball is better because of the innovation at every layer, starting with Callaway's groundbreaking new Graphene Dual SoftFast.
Read more

Video: Cobra Golf KING F8 Iron Tech

KING® F8 Variable and ONE Length™ irons are equipped with COBRA CONNECT™. Automatic shot tracking technology Powered By Arccos™.
Read more

Video: Octagon

The driver face is outdated. TaylorMade thinks its found the solution and sat down with five of its biggest players to see their reactions as the most twisted driver innovation is revealed. Are you ready to see?
Read more
club.news.more