Tiger Woods takes 'indefinite' leave of absence from golf
Tiger Woods is taking an indefinite break from golf after admitting his golf game is "unacceptable for tournament play."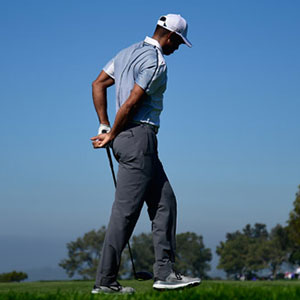 The 39-year-old withdrew from last week's event at Torrey Pines after only 12 holes – also missing the cut at the Phoenix Open the previous week.
"I need a lot of work on my game and to spend time with people that are important to me," said the Nike golfer.
"I enter a tournament to compete at the highest level. When I think I'm ready, I'll be back."
Woods, a former World No.1, has 14 major championships under his belt, but was forced to withdraw from three of his last eight competitive tournaments.
By missing the cut in Arizona last month, Woods earned himself an unwanted personal record of enduring his worst ever profession round with an 11-over-par 82 in the second round.
He eventually finished last in a field of 132 and when asked about his alarming plunge from world class player to struggling giant, replied: "I've got to keep this in perspective. Sometimes that's hard to do."
Evidently Woods has drawn the conclusion that right now he simply cannot continue to step onto the field and underperform. On his website he explained things, saying that he regretted withdrawing from Torrey Pines and that his current injury was not related to last year's back surgery.
He also stated that he will spend the next week practicing at home and said he could return to action at the Honda Classic, which begins on 26 February.
"I won't be there unless my game is tournament ready," he stressed. "I am committed to getting back to the pinnacle of my game. I do expect to be playing again very soon."
Latest News
OG News: Jarrod Lyle confirms he's in "palliative care"

The golf world, and many out of it, have been left rocked by the news that Jarrod Lyle is going into palliative care after claiming he is "no longer able to fight."
Read more

OG News: Two events left for McDowell to secure PGA Tour card

Graeme McDowell will have just two events to secure a PGA Tour card which would enable him to play in the United States next year after failing to qualify for next week's USPGA Championship in Missouri.
Read more

OG News: Leona & Lisa Maguire sign deals with Puma Golf

PUMA Golf a leader in golf apparel, footwear and accessories are pleased to announce the signing of sisters Leona & Lisa Maguire with immediate effect.
Read more
club.news.more
Latest Videos
Video: Callaway Chrome Soft & Chrome Soft X

Chrome Soft Golf Balls combine Tour-proven performance with unparalleled feel and exceptional mis-hit forgiveness. Everything about the ball that changed the ball is better because of the innovation at every layer, starting with Callaway's groundbreaking new Graphene Dual SoftFast.
Read more

Video: Cobra Golf KING F8 Iron Tech

KING® F8 Variable and ONE Length™ irons are equipped with COBRA CONNECT™. Automatic shot tracking technology Powered By Arccos™.
Read more

Video: Octagon

The driver face is outdated. TaylorMade thinks its found the solution and sat down with five of its biggest players to see their reactions as the most twisted driver innovation is revealed. Are you ready to see?
Read more
club.news.more