Tiger Woods comeback may never happen, say ex-players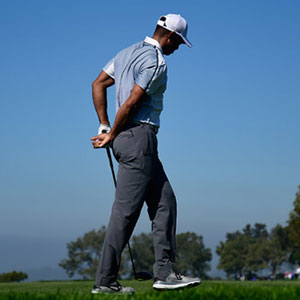 The news of Tiger Woods withdrawing from the Safeway Open has done little to persuade those who think the former 14-time major winner is done in the game, and now former players have chipped in with their verdicts about where Tiger is headed.
Former PGA Tour winner Brandel Chamblee compared Tigers' plight to the late, great five-time major winner Seve Ballesteros.
And two-time major winner Johnny Miller believes Woods will never be the old Tiger, although he also doesn't think the American is finished as a competitive player.
"What has happened to Tiger Woods is really the perfect storm of destruction for an athlete," Chamblee said on Golf Channel. "We've seen Tiger Woods' golf swing decay, his body decay and then his chipping decay.
"Once you've been visited upon by the yips, when you're chipping it just never goes away.
"There's nothing more exciting in golf, maybe in sports, than watching Tiger Woods, but there are too many hurdles to overcome.
"I just don't see (Woods) overcoming the yips."
Chamblee also elaborated on his comparisons to Woods and Ballesteros, who significantly paled as the great player he was once confidence in his own game began to wane.
"On many levels, there are parallels to Seve. Seve Ballesteros was a genius, an artist," Chamblee said.
"That's what golf is, it's more of an abstract game, and Seve tried to make it later in his career a linear game, and every single person that I've seen in professional golf who tried to make it a linear game, either becomes so frustrated they no longer can play or sooner or later they quit."
Woods, who announced the withdrawal on his official website, has not revealed what happened over the weekend that prompted a change of mind, although it is strongly believed his short game is not what it needs to be and that has forced him to back out of the event.
Safeway Open tournament host Miller was devastated at the news, and acknowledged that Woods' glory days were probably long behind him.
"I know there's a lot of pressure on Tiger after being away from professional golf for 14 months," said Miller. "Everyone expects him to come back and play like the year 2000, but that's just not going to happen.
"He's not ever going to be the old Tiger (but) I still think he can win, if he has the desire. I just hope he can find a bit of joy in the game again."
Woods will also not play at next month's Turkish Airlines Open event, but plans to participate at his foundation's Hero World Challenge in Albany, Bahamas in December.
Latest News
OG News: Jarrod Lyle confirms he's in "palliative care"

The golf world, and many out of it, have been left rocked by the news that Jarrod Lyle is going into palliative care after claiming he is "no longer able to fight."
Read more

OG News: Two events left for McDowell to secure PGA Tour card

Graeme McDowell will have just two events to secure a PGA Tour card which would enable him to play in the United States next year after failing to qualify for next week's USPGA Championship in Missouri.
Read more

OG News: Leona & Lisa Maguire sign deals with Puma Golf

PUMA Golf a leader in golf apparel, footwear and accessories are pleased to announce the signing of sisters Leona & Lisa Maguire with immediate effect.
Read more
club.news.more
Latest Videos
Video: Callaway Chrome Soft & Chrome Soft X

Chrome Soft Golf Balls combine Tour-proven performance with unparalleled feel and exceptional mis-hit forgiveness. Everything about the ball that changed the ball is better because of the innovation at every layer, starting with Callaway's groundbreaking new Graphene Dual SoftFast.
Read more

Video: Cobra Golf KING F8 Iron Tech

KING® F8 Variable and ONE Length™ irons are equipped with COBRA CONNECT™. Automatic shot tracking technology Powered By Arccos™.
Read more

Video: Octagon

The driver face is outdated. TaylorMade thinks its found the solution and sat down with five of its biggest players to see their reactions as the most twisted driver innovation is revealed. Are you ready to see?
Read more
club.news.more