Tiger Woods' old golf putter sells for staggering $29,000 on eBay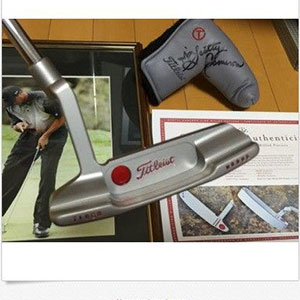 Tiger Woods has lost a lot of ground over the past couple years in terms of career wins, going winless for two years as well as suffering from injuries and personal issues. However, his popularity still remains if this recent eBay auction is anything to go by.
Woods placed one of his old golf putters up for sale last week – a Scotty Cameron model which would normally go for around £150 brand new. It sold for $29,000 - or £19,000. (Plus £50 for international insured postage).
However, this was no ordinary putter and golf fanatics are sure to appreciate what a great piece of history was on offer here. The putter was owned by Woods during the height of his glory years from 2001 and was made especially for Woods by Cameron himself, the world's most renowned putter-maker.
It comes with a signed headcover, framed picture and a certificate of authenticity. And best of all? It comes from the start of the 2001 season in which Woods won the Masters to complete the 'Tiger Slam'. To this day he remains the only golfer ever to hold all four major championships simultaneously.
And yet the putter was never actually used by Tiger in competition. It was only ever a backup for his bag. Of course that hadn't deterred whoever bought it and its value has clearly soared over the years.
The likes of McIlroy, Day and Spieth might have pushed Tiger out of frame in recent times, but it will be a long time before any of these players has an unused golf club sell for such a premium, if they ever manage it at all.
Latest News
OG News: Jarrod Lyle confirms he's in "palliative care"

The golf world, and many out of it, have been left rocked by the news that Jarrod Lyle is going into palliative care after claiming he is "no longer able to fight."
Read more

OG News: Two events left for McDowell to secure PGA Tour card

Graeme McDowell will have just two events to secure a PGA Tour card which would enable him to play in the United States next year after failing to qualify for next week's USPGA Championship in Missouri.
Read more

OG News: Leona & Lisa Maguire sign deals with Puma Golf

PUMA Golf a leader in golf apparel, footwear and accessories are pleased to announce the signing of sisters Leona & Lisa Maguire with immediate effect.
Read more
club.news.more
Latest Videos
Video: Callaway Chrome Soft & Chrome Soft X

Chrome Soft Golf Balls combine Tour-proven performance with unparalleled feel and exceptional mis-hit forgiveness. Everything about the ball that changed the ball is better because of the innovation at every layer, starting with Callaway's groundbreaking new Graphene Dual SoftFast.
Read more

Video: Cobra Golf KING F8 Iron Tech

KING® F8 Variable and ONE Length™ irons are equipped with COBRA CONNECT™. Automatic shot tracking technology Powered By Arccos™.
Read more

Video: Octagon

The driver face is outdated. TaylorMade thinks its found the solution and sat down with five of its biggest players to see their reactions as the most twisted driver innovation is revealed. Are you ready to see?
Read more
club.news.more