Steve Stricker returns to golf full-time…Well, sort of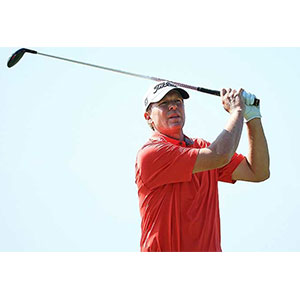 Is Steve Stricker about to ditch his part-time golf schedule and return to the greens full-time? Yes. And no. Right now he's happy to come back and play regularly again, but has enforced the fact this may be only a temporary decision.
Stricker will turn 49 next month and is gearing up for his first start at the Sony Open in Hawaii since 2012; the year in which he won the season-opening Hyundai Tournament of Champions in Maui for the last of his 12 PGA Tour titles.
His playing time was reduced to just nine starts last year because of back surgery in December 2014. Yet Stricker has said he hopes to play close to 15 tournaments this year – not including the play-off events.
Speaking to Golf Digest, Stricker said: "I'm excited to get going and playing. I feel a little bit stronger, a little bit healthier. It's been about 13 months since the surgery on my back, and finally I'm starting to feel somewhat like my old self. Going through the ball a little bit stronger. I feel better with where my conditioning and where my body is at compared to some times last year, so excited to play."
It will be a tough run for Stricker, who has not played more than 13 events since 2013, and the former World No.2 knew that he might face a time when he would be excluded from majors and World Golf Championships. That's the way his schedule looks this year; his attitude sounds like he thinks that could change.
"I kind of expected that when I decided to scale back my schedule a few years ago, that slowly these would fall away, these tournaments that I had been getting into," said the Wisconsin native, who is employing his wife, Nicki, as his caddie this year, a role she assumed for four years early in Steve's career. "There's some tournaments that I really miss playing. So that's the fun part again, that I can try to go back out there and try to play well to get back in those events again."
Nicki, who is a fine golfer in her own right, said: "We talked about that, about getting back to Kapalua for the Tournament of Champions. He can do it, especially now that he's healthy."
Ranked 245th in the world, Stricker has a mountain to conquer as he considers moving back into a full-time golf career. "There's a lot of possibilities that could happen by the end of the year," he said, smiling. "That's what I'm excited for."
Latest News
OG News: Jarrod Lyle confirms he's in "palliative care"

The golf world, and many out of it, have been left rocked by the news that Jarrod Lyle is going into palliative care after claiming he is "no longer able to fight."
Read more

OG News: Two events left for McDowell to secure PGA Tour card

Graeme McDowell will have just two events to secure a PGA Tour card which would enable him to play in the United States next year after failing to qualify for next week's USPGA Championship in Missouri.
Read more

OG News: Leona & Lisa Maguire sign deals with Puma Golf

PUMA Golf a leader in golf apparel, footwear and accessories are pleased to announce the signing of sisters Leona & Lisa Maguire with immediate effect.
Read more
club.news.more
Latest Videos
Video: Callaway Chrome Soft & Chrome Soft X

Chrome Soft Golf Balls combine Tour-proven performance with unparalleled feel and exceptional mis-hit forgiveness. Everything about the ball that changed the ball is better because of the innovation at every layer, starting with Callaway's groundbreaking new Graphene Dual SoftFast.
Read more

Video: Cobra Golf KING F8 Iron Tech

KING® F8 Variable and ONE Length™ irons are equipped with COBRA CONNECT™. Automatic shot tracking technology Powered By Arccos™.
Read more

Video: Octagon

The driver face is outdated. TaylorMade thinks its found the solution and sat down with five of its biggest players to see their reactions as the most twisted driver innovation is revealed. Are you ready to see?
Read more
club.news.more