Stenson warns McIlroy about his 120mph swing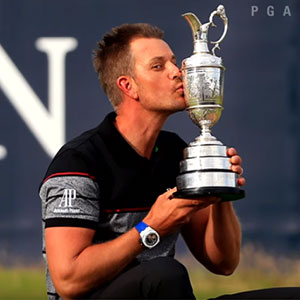 Open champion Henrik Stenson has warned Rory McIlroy that he is likely to suffer more injuries as he nears his 30's due to the way he swings the golf club.
The Swede issued the worrying warning after seeing McIlroy spending more and more time on the fringes of the game due to different physical issues. As the modern propensity seems to be in hitting the golf ball as hard as possible, inevitably a toll must be taken on the body.
McIlroy, 27, has been forced to withdraw from the star-studded Abu Dhabi HSBC Championship, which begins on Thursday, after suffering a stress fracture in his rib while practicing.
He is also likely to miss the Dubai Desert Classic in a fortnight, and possibly several events in America. World No.1 Jason Day took three months off last year to sort out his back.
"You see how Rory and Jason really go after it and that's putting a lot of pressure on the knees, back and neck," said Stenson.
"You've got to watch it, because the injuries show up at a later stage. That's when you're paying for the wear and tear of the one-sided motion we do."
In the past 10 years, many players have upped their swing speeds. The consequences, however, is a drastic rise in injuries. The golf swing has never been kind on the back, but when the golf club is being swung at 120mph like McIlroy's, it can wreak hell with the body.
Latest News
OG News: Jarrod Lyle confirms he's in "palliative care"

The golf world, and many out of it, have been left rocked by the news that Jarrod Lyle is going into palliative care after claiming he is "no longer able to fight."
Read more

OG News: Two events left for McDowell to secure PGA Tour card

Graeme McDowell will have just two events to secure a PGA Tour card which would enable him to play in the United States next year after failing to qualify for next week's USPGA Championship in Missouri.
Read more

OG News: Leona & Lisa Maguire sign deals with Puma Golf

PUMA Golf a leader in golf apparel, footwear and accessories are pleased to announce the signing of sisters Leona & Lisa Maguire with immediate effect.
Read more
club.news.more
Latest Videos
Video: Callaway Chrome Soft & Chrome Soft X

Chrome Soft Golf Balls combine Tour-proven performance with unparalleled feel and exceptional mis-hit forgiveness. Everything about the ball that changed the ball is better because of the innovation at every layer, starting with Callaway's groundbreaking new Graphene Dual SoftFast.
Read more

Video: Cobra Golf KING F8 Iron Tech

KING® F8 Variable and ONE Length™ irons are equipped with COBRA CONNECT™. Automatic shot tracking technology Powered By Arccos™.
Read more

Video: Octagon

The driver face is outdated. TaylorMade thinks its found the solution and sat down with five of its biggest players to see their reactions as the most twisted driver innovation is revealed. Are you ready to see?
Read more
club.news.more