Spieth still undecided over Olympic participation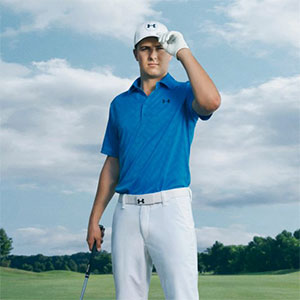 Could Jordan Spieth be the next high-profile golfer to cancel his flight to Rio for this summer's Olympic Games?
The two-time major winner is currently the highest placed golfer left on the plane to Rio after World No.1 Jason Day withdrew from the competition on Tuesday citing the Zika virus as a cause for concern and Rory McIlroy pulled out offering a variety of vague reasons why he too will not be heading to Brazil.
Spieth has admitted that being the poster boy for America heaps added pressure on him to commit to the Olympics, but insists every situation will be weighed up before he makes any final decision.
Speaking to Sky Sports the 22-year-old said: "Right now, I'm uncertain. Do I feel an added burden? Potentially. I think all four of the Americans do.
"I feel like one of four with maybe a slightly higher burden now that the guys have dropped out. I've always been excited about the possibility but there's quite a few different factors that would turn somebody away from going.
"I have not received enough information to make an informed decision either way or not so as we gather more information I will be able to make a decision one way or the other. When I feel confident, I will make a decision either side."
The International Golf Federation (IGF) has stopped responding to each player withdrawal because it was repeating the same statement that 'It is disappointed, but understands that each player has to decide on his own.'
If golf is to have a good showing in Rio this summer, it really cannot afford any more players to leap out of the plane…unfortunately that simply doesn't seem likely to happen and more casualties are almost certain to follow.
Latest News
OG News: Jarrod Lyle confirms he's in "palliative care"

The golf world, and many out of it, have been left rocked by the news that Jarrod Lyle is going into palliative care after claiming he is "no longer able to fight."
Read more

OG News: Two events left for McDowell to secure PGA Tour card

Graeme McDowell will have just two events to secure a PGA Tour card which would enable him to play in the United States next year after failing to qualify for next week's USPGA Championship in Missouri.
Read more

OG News: Leona & Lisa Maguire sign deals with Puma Golf

PUMA Golf a leader in golf apparel, footwear and accessories are pleased to announce the signing of sisters Leona & Lisa Maguire with immediate effect.
Read more
club.news.more
Latest Videos
Video: Callaway Chrome Soft & Chrome Soft X

Chrome Soft Golf Balls combine Tour-proven performance with unparalleled feel and exceptional mis-hit forgiveness. Everything about the ball that changed the ball is better because of the innovation at every layer, starting with Callaway's groundbreaking new Graphene Dual SoftFast.
Read more

Video: Cobra Golf KING F8 Iron Tech

KING® F8 Variable and ONE Length™ irons are equipped with COBRA CONNECT™. Automatic shot tracking technology Powered By Arccos™.
Read more

Video: Octagon

The driver face is outdated. TaylorMade thinks its found the solution and sat down with five of its biggest players to see their reactions as the most twisted driver innovation is revealed. Are you ready to see?
Read more
club.news.more