Ryder Cup Legends mini golf course opens at the Belfry Hotel & Resort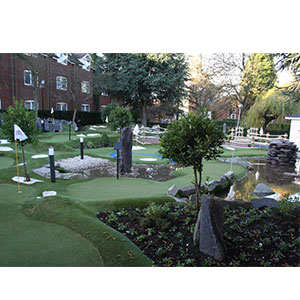 Keeping in line with its unrivalled Ryder Cup history, the Belfry Hotel & Resort has opened a unique Ryder-Cup themed mini golf course; featuring some of the most iconic holes from courses across Europe and the USA.
The 'Ryder Layout' consists of twelve holes – nine of which are particularly famous from historical Ryder Cup clashes. Three bonus holes round off the fun pint-sized course.
Among the courses holes is a replica of the legendary risk-and-reward 10th hole from The Barbazon at The Belfry, which challenges players to go for glory.
The course has been designed by renowned mini golf architects City Golf, and the high specification layout maintains the iconic design features from some of the world's most recognisable holes, while incorporating a number of tricky challenges and water hazards along the way to keep both the young and old thoroughly entertained.
Some of the legendary European holes to be given the miniature treatment include the 17th at Valderrama, the 18th at Wentworth and the 9th at Royal Lytham & St Annes. Classic American Ryder Cup holes featured include the 17th at Kiawah Island, Valhalla's 13th and the 5th from Pinehurst.
David Edwards, Resort Director at The Belfry, said of the opening: "The Ryder Legends Mini Golf Course is a great addition for the resort. As the world's only four-time host, we wanted to honour our Ryder Cup heritage, but do so in a way that would be enjoyable and inclusive for everyone.
"Whether you are a golfing purist, wanting to experience replicas of some of the world's most iconic Ryder Cup holes, or a beginner just looking for a bit of fun, the new course offers something for everyone. It provides another activity that we can offer to guests when they visit the resort, and as always, we wanted to ensure that it was completed to the highest of standards."
A round on the Ryder Legends Mini Golf Course will cost you £7 per adult an £5 per child. The course is open from 10am-6pm daily, and no booking is required. It can also be hired exclusively for £250.
Card of the Course
1st Hole: Par 5 – Valderrama, 17th (Ryder Cup Host 1997)
2nd Hole: Par 5 – Wentworth West Course, 18th (Ryder Cup Host 1953)
3rd Hole: Par 3 – Kiawah Island Ocean Course, 17th (Ryder Cup Host 1991)
4th Hole: Par 4 – Valhalla, 13th (Ryder Cup Host 1991)
5th Hole: Par 3 – Royal Lytham & St Annes, 9th (Ryder Cup Host 1961, 1977)
6th Hole: Par 4 – Royal Birkdale, 16th (Ryder Cup Host 1965, 1969)
7th Hole: Par 2 – Spiral Fun Hole
8th Hole: Par 2 – U-Bend Fun Hole
9th Hole: Par 5 – Pinehurst No. 2 Course, 9th (Ryder Cup Host 1951)
10th Hole: Par 2 – Up and Over Fun Hole
11th Hole: Par 4 – The Belfry Brabazon Course, 10th (Ryder Cup Host 1985, 1989, 1993, 2002)
12th Hole: Par 4 – PGA National Champion Course, 15th (Ryder Cup Host 1983)
Latest News
OG News: Jarrod Lyle confirms he's in "palliative care"

The golf world, and many out of it, have been left rocked by the news that Jarrod Lyle is going into palliative care after claiming he is "no longer able to fight."
Read more

OG News: Two events left for McDowell to secure PGA Tour card

Graeme McDowell will have just two events to secure a PGA Tour card which would enable him to play in the United States next year after failing to qualify for next week's USPGA Championship in Missouri.
Read more

OG News: Leona & Lisa Maguire sign deals with Puma Golf

PUMA Golf a leader in golf apparel, footwear and accessories are pleased to announce the signing of sisters Leona & Lisa Maguire with immediate effect.
Read more
club.news.more
Latest Videos
Video: Callaway Chrome Soft & Chrome Soft X

Chrome Soft Golf Balls combine Tour-proven performance with unparalleled feel and exceptional mis-hit forgiveness. Everything about the ball that changed the ball is better because of the innovation at every layer, starting with Callaway's groundbreaking new Graphene Dual SoftFast.
Read more

Video: Cobra Golf KING F8 Iron Tech

KING® F8 Variable and ONE Length™ irons are equipped with COBRA CONNECT™. Automatic shot tracking technology Powered By Arccos™.
Read more

Video: Octagon

The driver face is outdated. TaylorMade thinks its found the solution and sat down with five of its biggest players to see their reactions as the most twisted driver innovation is revealed. Are you ready to see?
Read more
club.news.more