Pregnant golfer set to play Women's Open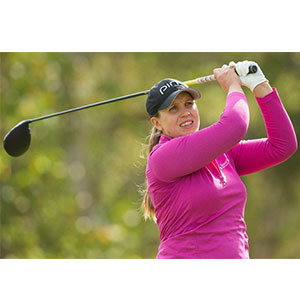 Golfer Liz Young is looking forward to playing in this year's Women's Open Championships. Almost as much as becoming a mum – which she will be in around two months' time!
Most sports would probably prevent players from taking part at seven months pregnant, but Liz Young is happy to hit the greens one last time before signing off to prepare for motherhood.
Young, from Brockenhurst in the New Forest, will down her clubs and start maternity leave after playing at Woburn on 28-31 July - something that was not in her original birth plan.
"I don't quite know if security will believe I'm actually playing when I turn up on the first practice day," the 33-year-old told BBC Radio Solent.
"We'll see how it goes, but the bump doesn't get in the way of my game.
"It's literally growing by the day. Things like the stress on your back are obviously different and twisting and turning in your swing can be more painful.
"I don't have as much energy as I used to, so that means less practice."
Young qualified for the tournament in early June after finishing tied for eighth during the Czech Masters in Plzen.
"Originally, I'd planned to play up until the Scottish Open, which is the week before Woburn," she confirmed.
"After a poor start to the year, I didn't think I'd have enough this season to qualify. But things turned around and it's nice to think this will be my last tournament before becoming a mum.
"Woburn's my favourite course in the UK, so it's fitted in nicely."
She now hopes to inspire other pregnant sportswomen.
"I'm lucky I play a sport that allows me to play while seven months pregnant," she said.
"If I was a track and field athlete or a swimmer, I probably wouldn't be able to compete. But while I can, I think it's an inspiration to others who do become pregnant, that they can still be active."
Latest News
OG News: Jarrod Lyle confirms he's in "palliative care"

The golf world, and many out of it, have been left rocked by the news that Jarrod Lyle is going into palliative care after claiming he is "no longer able to fight."
Read more

OG News: Two events left for McDowell to secure PGA Tour card

Graeme McDowell will have just two events to secure a PGA Tour card which would enable him to play in the United States next year after failing to qualify for next week's USPGA Championship in Missouri.
Read more

OG News: Leona & Lisa Maguire sign deals with Puma Golf

PUMA Golf a leader in golf apparel, footwear and accessories are pleased to announce the signing of sisters Leona & Lisa Maguire with immediate effect.
Read more
club.news.more
Latest Videos
Video: Callaway Chrome Soft & Chrome Soft X

Chrome Soft Golf Balls combine Tour-proven performance with unparalleled feel and exceptional mis-hit forgiveness. Everything about the ball that changed the ball is better because of the innovation at every layer, starting with Callaway's groundbreaking new Graphene Dual SoftFast.
Read more

Video: Cobra Golf KING F8 Iron Tech

KING® F8 Variable and ONE Length™ irons are equipped with COBRA CONNECT™. Automatic shot tracking technology Powered By Arccos™.
Read more

Video: Octagon

The driver face is outdated. TaylorMade thinks its found the solution and sat down with five of its biggest players to see their reactions as the most twisted driver innovation is revealed. Are you ready to see?
Read more
club.news.more