Pitch your salary against the pros
A salary calculator that lets you pitch your annual salary against some of the game's best and most loved professionals has been released today.
Created by the internet-only golf retailer, OnlineGolf.co.uk, the interactive widget highlights the power and influence that professional golfers have on and off the fairways in the modern game.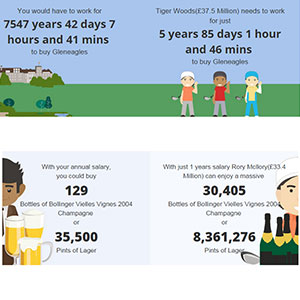 The salary checker proves that it's not only the elite men who are earning big pay checks every year, but female golfers, too. The widget reveals that both Karrie Webb and Cristie Kerr earn more than Gary Player, Rickie Fowler and Matt Kuchar.
Fans can pitch their annual salary against pros like Tiger Woods, Rory McIlroy and Phil Mickelson, as well players from the LPGA: Karrie Webb, Paula Creamer and Inbee Park.
To try out the salary checker just visit https://www.onlinegolf.co.uk/blog/pitch-your-salary-pro-golfers.html - input a salary and choose the pro to take on. The salary checker will tell fans the following information:
How long it would take for a pro to earn your annual salary
How many days you and a pro would need to work to buy Gleneagles
How many bottles of Bollinger Vieilles Vignes Champagne you could buy
How many pints of lager you could buy
How much you have both earned whilst visiting the page
With an average national annual salary (£26,000), it would take 1414 years 41 days 2 hours and 29 minutes to earn what Tiger Woods (£37.5 Million) earns in just a year.
It would take Tiger Woods (£37.5 Million) just 1 hour and 25 minutes to earn this average annual salary.
Even the Prime Minister, David Cameron, struggles to get close to the wages of some of the top golf pros. Earning an impressive £142,000 a year himself, it would take Tiger Woods just 7 hours and 40 minutes to earn his annual salary.
Buying the next round at the pub would never be a problem for David compared to the average Joe. Cameron could afford to buy over 35,500 pints of Lager on his annual salary, whereas Rory Mcllory could buy an astonishing 8,361,276 pints of Lager with his £33.4 Million salary.
The widget also houses the top twenty four best paid male golfers and the top ten female golfers from 2014/2015. Craig Brooking, Digital Marketing Manager at OnlineGolf, said "Comparing the most popular golfer's annual income has revealed to us just how much the commercial side to the game has grown in recent years."
"Not only has the PGA tour earned players the world over a strong income, but now the LPGA tour is helping female professionals earn just as much and in some cases more than some of the best loved male golfer's on the PGA tour."
Latest News
OG News: Jarrod Lyle confirms he's in "palliative care"

The golf world, and many out of it, have been left rocked by the news that Jarrod Lyle is going into palliative care after claiming he is "no longer able to fight."
Read more

OG News: Two events left for McDowell to secure PGA Tour card

Graeme McDowell will have just two events to secure a PGA Tour card which would enable him to play in the United States next year after failing to qualify for next week's USPGA Championship in Missouri.
Read more

OG News: Leona & Lisa Maguire sign deals with Puma Golf

PUMA Golf a leader in golf apparel, footwear and accessories are pleased to announce the signing of sisters Leona & Lisa Maguire with immediate effect.
Read more
club.news.more
Latest Videos
Video: Callaway Chrome Soft & Chrome Soft X

Chrome Soft Golf Balls combine Tour-proven performance with unparalleled feel and exceptional mis-hit forgiveness. Everything about the ball that changed the ball is better because of the innovation at every layer, starting with Callaway's groundbreaking new Graphene Dual SoftFast.
Read more

Video: Cobra Golf KING F8 Iron Tech

KING® F8 Variable and ONE Length™ irons are equipped with COBRA CONNECT™. Automatic shot tracking technology Powered By Arccos™.
Read more

Video: Octagon

The driver face is outdated. TaylorMade thinks its found the solution and sat down with five of its biggest players to see their reactions as the most twisted driver innovation is revealed. Are you ready to see?
Read more
club.news.more