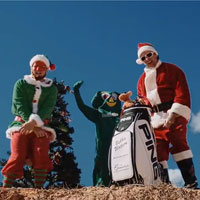 PING Golf's Bubba Watson releases Bubba Claus: 'The Single'
As the festive season gets into full swing with less than a week to go before Christmas, a new song has hit the airwaves – or at least YouTube – which has taken the golfing world by storm…
Bathed in the hot Florida sun, wearing a big red Santa suit and shielding his eyes with a pair of snazzy black shades, two-time Masters champion Bubba Watson swaps his PING clubs for a microphone in a hilarious Christmas music video rap.
Spouting out lyrics such as "I just touched down on a hovercraft/I bet you want to know what's in my bag/Is it golf clubs or a bag of toys? It's a bird, it's a plane, it's Bubba Claus," manages to show off the funny side of Bubba as he parades around in the video while telling us all about his rather mundane childhood at Christmastime.
'Bubba Claus' is just another string to Watson's musical bow, however, as he also works alongside fellow golfers Rickie Fowler, Hunter Mahan and Ben Crane as the Golf Boys – check them out if you haven't already.
One thing is for certain, though. Bubba certainly seems to be having a good time, which is what Christmas is all about.