PING & SkyPro Golf team up to help custom fitters
PING and SkyPro Golf have shaken hands and forged a team in order to create a new tool for the custom fit market.
SkyPro Golf is the maker of those very handy swing analyser training aids which snap onto a player's golf club shaft, and now they've joined forces with PING to design a tool called nFlight Motion. A device that helps custom-fitters find their ideal wood and shaft combination.
And the technical side of things seem pretty simple, too. After hitting three shots with a golf driver, fairway wood or hybrid golf club, an App that runs on iOS devices shows the golfer's average club head speed, transition and impact hand lean. The app will then recommend to the fitter which PING golf club and shaft is best suited to that player's needs.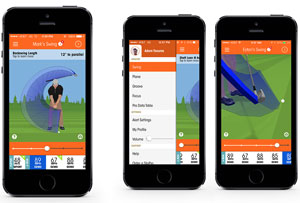 Marty Jertson, PING's director of product development, said: "It's kind of like bringing the iPing application to the full swing."
The iPing is basically a fitting tool for golf putters which utilises smart phones that fit a cradle on the putter shaft, thus then providing information that helps choose which putter is right for you.
Speaking on the nFlight, Jertson adds: "We studied how much a player's swing changes and we learned that a person's swing signature doesn't change all that much. That's why we can do the recommendation based on only three swings."
Jertson also says that nFlight Motion's software package will create recommendations by cleverly matching the data it collects from the player's golf swing with thousands of fittings PING has conducted and analysed.
"Basically, we are packaging all that computer horsepower into three swings," Jertson said.