Phil Mickelson vows to mount credible challenge at next Open Championship
Phil Mickelson has made it clear to his fan base that he'll be right up for The Open Championship at St Andrews in 12 months' time after failing to defend his title at Royal Liverpool.
The American finished strongly with a four-under-par 68, but his five-under still left him well behind the leaders.
It was a far cry from the elation the American and his fans felt after winning the event last year (pictured, right).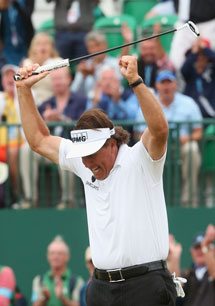 "It is disappointing but it is also a good motivating factor for me," Mickelson told Sky Sports.
"Knowing how great it felt to win this tournament makes me want to work harder and get ready for St Andrews next year. I can't think of a better site, or golf course, to win any tournament ever than St Andrews.
"To have the Open back there is a great opportunity and I will be working hard to try to get it back."
The 44-year-old also currently sits outside of the automatic qualifying places for the United States' Ryder Cup team, although it's widely expected that Tom Watson would name the Callaway golfer as one of his wildcard picks – but Lefty is determined to win his spot outright.
Mickelson has been a member of every USA team since 1995, and feels that achieving another place in the team without relying on others is the way to go. He said: It does matter to me - it has been 19 years now where I have made it on my own.
"It is a record of consistency to play that well, to make it without being a pick, and I'd like to keep that streak going.
"I can't really control the points too much but if I play like I did this week at Akron (Bridgestone Invitational) and the (US) PGA (Championship) I'll be fine, I'll be on it.
"It will be beneficial for both me and Tom if I can do it on my own. If I don't get in on my own I don't know if I'll have played well enough this year to deserve a spot.
"You want players who are hot and playing well, and I need to step up and do that."