Nike Vapor Irons family coming soon to OnlineGolf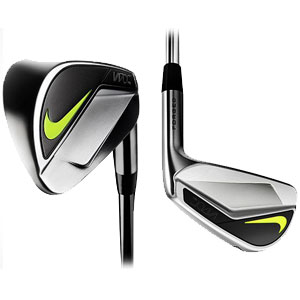 If you're a golfer who isn't foaming at the mouth in anticipation of Nike's newest Vapor irons then perhaps this isn't the sport for you – or perhaps you're Rory McIlroy, who's already enjoyed some quality time with these irons as well as playing the Vapor Driver in this year's Ryder Cup. Either way if you aren't excited about Nike's new irons, you should be. And here's some reasons why…
Not all of us have the silky skills and suave nuances which accompany the world's best golfers, and that will inevitably force some to believe these irons aren't designed for them. However, nothing could be further from the truth, with Nike working its Oven overtime to create irons ideal for every player – from beginner through to professional.
The gorgeous Nike Vapor Speed irons are made for the recreational players whose interest lies more in achieving distance and forgiveness than Tour-level control.
Each iron is a hollow-bodied club made of 431 stainless steel, and each has been designed with a centre of gravity (CG) position that's low and back, away from the hitting surface. Golfers who have slower swing speeds and who often mis-hit their shots will be able to connect with the ball higher and farther that little bit easier with one of these irons in their possession.
The CG is positioned so low and deep it lets Nike make each Vapor Speed iron ½-inch longer than standard and strengthen the lofts by 3 degrees compared to the game-enhancing Vapor Pro irons. As an added benefit, the Speed irons maintain the high launch angles that most mid to high handicap golfers want to play with.
A look behind the face of the back of the club reveals two supporting bars called Fly Beams, which are said to increase players stability – and boy do they ever!
Beginning with the 8-iron, the set transitions into pocket-cavity irons for greater precision and feel on every approach shot.
The cavity behind the face has been filled with the same resin as the Vapor Speed irons, and the material is lighter and softer than the steel found in the rest of the golf club. This increase its moment of inertia across the face and softens impact for enhanced feel and performance.
A viscoelastic medallion is also positioned on the back of the club to further enhance a feel that simply doesn't seem possible to make any better. But it does.
The Nike Vapor Pro Blade irons, Pro Blade irons and Speed Blade irons will each carry with them something for every golfer to improve their game. The Vapor iron family will be moving into OnlineGolf soon, so keep checking back for updates.

Check out the full Nike Golf range available at OnlineGolf now and enjoy every round this winter season.