Nike Golf gives McIlroy what he wants with new Lunar Control 3 shoes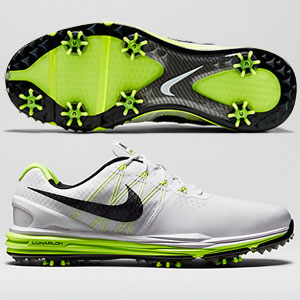 Rory McIlroy threw down the challenge, and the talented designers at Nike Golf delivered ten-fold. The World No.1 asked for a golf shoe which provided better traction during his game, and the brand's response was swift and effective: the Nike Lunar Control 3 shoes.
McIlroy – along with his fellow Nike players – wore the new Lunar Control 3 shoes at the DP World Tour Championship in Dubai where they received sparkling reviews, with McIlroy saying: "I love the look of the shoe and how much lower to the ground it makes me feel. With the increased traction and stability, I am able to be more aggressive with my swing and do not have to worry about slipping."
Due to the rotating force in his swing, McIlroy wanted a solution that would provide him with greater traction which also prevented slipping. But he also wanted the shoes to retain that same control necessary to generate power and speed on the golf course. Nike happily obliged.
Nike designers tackled these issues by adding an extra spike on the newer model in the medial forefoot on the outsole, and secondary traction elements in the Nike Lunar Control 3.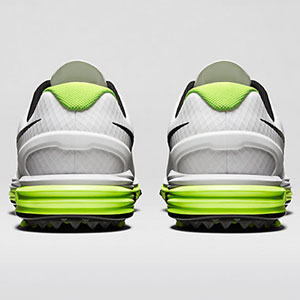 The shoes also feature a wider base for increased stability and to help players maintain contact with the turf for as long as possible through impact. This is coupled with a carbon fibre midfoot shank which delivers lower, lighter and far more stable control on every shot.
Like the Lunar Control II shoes, the upper of the Nike Lunar Control 3 utilises the excellent Nike Flywire technology – an adaptive lateral support which uses more robust cables to help secure the foot effectively.
The shoe's upper is made from microfiber synthetic to give incredible water-resistance, and the shoes are apparently so comfortable they can be worn right out of the box!
When it comes to the midsole, Nike Lunar Control 3 shoes feature a lighter and softer full-length Nike Lunarlon foam to give lightweight responsive cushioning underfoot – an invaluable tool for any athlete on their feet for extended periods of time.
The Nike Golf Lunar Control 3 Golf Shoe will be arriving soon at OnlineGolf, so keep checking back for updates.
View the full Nike Golf range of equipment, clothing, shoes, bags and accessories now.