New PGA Tour Balls & Accessories available now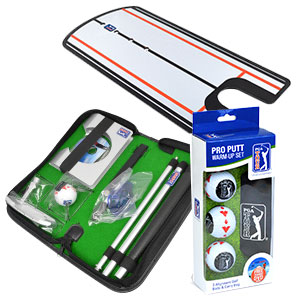 PGA Tour balls and accessories are some of the most reliable and trusted products which golfers can use to drastically improve their overall game. Whether you're a pro player or amateur who enjoys the odd round, everyone needs top quality training aids, balls and accessories to help them improve – and PGA Tour has everything you need and more!
Check out the best new PGA Tour products, available now at OnlineGolf.
PGA Tour Executive Putting Set
At home or in the office, it really doesn't matter where you are if you've got the PGA Tour Executive Putting Set, which is ideal for improving short game. The set contains a collapsible putter, guideball, ball marker tool with pen and hole, all neatly carried in a portable carry case. This is a great set for golfers on the go.
PGA Tour Pro Putt Warm Up Set
This is a sure-fire way to improve accuracy around the golf course. The PGA Tour Pro Putt Warm Up Set includes 3 alignment golf balls and golf ball carry bag to give you the perfect warm-up before kicking off your game. Each golf ball has visual alignment markings to help you line up putting stroke and get the ball rolling towards the hole. The set also comes with a comprehensive instructional DVD to really help your golf game reach new heights.
PGA Tour 4-Sight Pro Putting Alignment Mirror
This is how a golfer keeps their putts on track! This brilliant PGA Tour 4-Sight Pro Putting Alignment Mirror is perfect for getting that consistency in putting stroke and positioning. The mirror provides visual provides great feedback by showing you where your eyes, putter face and shoulders are in relation to the shot to help you improve your short game skills.
PGA Tour Pro Swing Training Band
The PGA Tour Pro Swing Training Band is so easy to use and comes complete with a free DVD to help you improve your game. It has been specially designed to encourage a Hogan-like swing and prevents flying elbow on wedge and short iron shots. This is the best way to correct swing path and can be used successfully by both left and right handed golfers.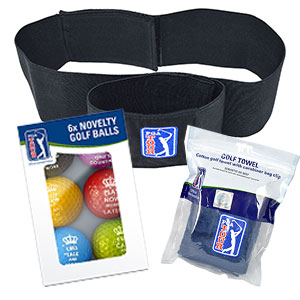 PGA Tour Novelty 6 Golf Balls
Keep Calm and golf with these awesome multi-coloured PGA Tour Novelty Golf Balls (pack of 6). They provide a light-hearted addition for any golfers bag and have a solid 2-piece construction which has been designed to add excellent distance to your game. These golf balls feature fun messages including "Keep Calm no one's counting", "Born to golf, forced to work", "Play now work later", "Keep calm and tee off", "Less take and more play" and "Keep calm and blame the caddy." Great fun for all golfers.
PGA Tour Towel
Made from a soft cotton velour, the PGA Tour Golf Towel has neat branding and a loaded steel carabiner clip to hold it snug to your golf bag. The towel has a size of 6" x 21" when unfolded and features the PGA Tour brand logo embroidered on the side.
You can view the full PGA Tour range today at OnlineGolf.
Latest News
OG News: Jarrod Lyle confirms he's in "palliative care"

The golf world, and many out of it, have been left rocked by the news that Jarrod Lyle is going into palliative care after claiming he is "no longer able to fight."
Read more

OG News: Two events left for McDowell to secure PGA Tour card

Graeme McDowell will have just two events to secure a PGA Tour card which would enable him to play in the United States next year after failing to qualify for next week's USPGA Championship in Missouri.
Read more

OG News: Leona & Lisa Maguire sign deals with Puma Golf

PUMA Golf a leader in golf apparel, footwear and accessories are pleased to announce the signing of sisters Leona & Lisa Maguire with immediate effect.
Read more
club.news.more
Latest Videos
Video: Callaway Chrome Soft & Chrome Soft X

Chrome Soft Golf Balls combine Tour-proven performance with unparalleled feel and exceptional mis-hit forgiveness. Everything about the ball that changed the ball is better because of the innovation at every layer, starting with Callaway's groundbreaking new Graphene Dual SoftFast.
Read more

Video: Cobra Golf KING F8 Iron Tech

KING® F8 Variable and ONE Length™ irons are equipped with COBRA CONNECT™. Automatic shot tracking technology Powered By Arccos™.
Read more

Video: Octagon

The driver face is outdated. TaylorMade thinks its found the solution and sat down with five of its biggest players to see their reactions as the most twisted driver innovation is revealed. Are you ready to see?
Read more
club.news.more