Paul McGinley hails golf's return to the Olympics a success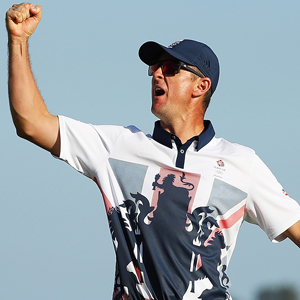 On Sunday, Justin Rose became the first Olympic golf champion in 112 years. Its return to the Olympics showcased golf's talent and saw its return hailed a success.
After all the negativity and controversy surrounding the top four not attending, there is a consensus among those competing that they are now probably regretting that decision.
Paul McGinley said "As a lover of the sport, I think the tournament was brilliant and provided real theatre. We had a fantastic golf course designed by Gil Hanse - which the players loved - and sell-out crowds."
The decision to make tickets available in the cheapest price bracket was inspired and ensured excellent crowds, with the final day being a sellout event.
"It was a very different atmosphere from a normal golf event. There was a very international crowd, not all of them accustomed to golf tournaments." Referring to play which was interrupted by fans not experienced in the protocols. Camera clicks, a raucous atmosphere and an incident of a displaced ball went with the territory.
"It was quite rowdy at times out there," International Golf Federation President Peter Dawson told BBC Sport. "But it added to the atmosphere and there is nothing wrong with that. That's just what we wanted. It was a very different atmosphere from a normal golf event."
Peter Dawson, who was a leading figure in the push for golf's inclusion admitted "I've actually had more messages after the men's Olympic golf event than I've had after Open Championships," he said. "The reaction has been terrific."
Rose called his young son after his win and revealed he shed tears of joy over his Dad's victory.
"That's never happened before," Rose exposed. Leo could grasp how special a moment this was because the Games provided clarity to the scale of his father's sporting achievement.
Planning for Tokyo 2020 has already begun with a change in format being suggested. Paul McGinley felt a Ryder Cup approach may work better. "My feeling going forward is that I'd like to see more of a team element, whether that be matchplay or another way to get the players closer together as countries."
In the meantime, the ladies' tournament kicks off today. Nineteen-year-old World number one Lydia Ko leads the field and is fully embracing the Rio spirit. ""The Olympics was probably the biggest goal of mine this year," Ko said as she began her preparations. "If I end up holding a gold medal at the end of Saturday, and standing on the podium, I think it will be extra special. I don't know if I would ever take that medal off."
Ko was also of a similar opinion regarding the athletes who decided not to attend. "A lot of them would have said, hey, that's such a great vibe, I wish I was there, too,"
Charley Hull and Catriona Matthew are representing Great Britain and hoping to emulate Rose's success.
Latest News
OG News: Jarrod Lyle confirms he's in "palliative care"

The golf world, and many out of it, have been left rocked by the news that Jarrod Lyle is going into palliative care after claiming he is "no longer able to fight."
Read more

OG News: Two events left for McDowell to secure PGA Tour card

Graeme McDowell will have just two events to secure a PGA Tour card which would enable him to play in the United States next year after failing to qualify for next week's USPGA Championship in Missouri.
Read more

OG News: Leona & Lisa Maguire sign deals with Puma Golf

PUMA Golf a leader in golf apparel, footwear and accessories are pleased to announce the signing of sisters Leona & Lisa Maguire with immediate effect.
Read more
club.news.more
Latest Videos
Video: Callaway Chrome Soft & Chrome Soft X

Chrome Soft Golf Balls combine Tour-proven performance with unparalleled feel and exceptional mis-hit forgiveness. Everything about the ball that changed the ball is better because of the innovation at every layer, starting with Callaway's groundbreaking new Graphene Dual SoftFast.
Read more

Video: Cobra Golf KING F8 Iron Tech

KING® F8 Variable and ONE Length™ irons are equipped with COBRA CONNECT™. Automatic shot tracking technology Powered By Arccos™.
Read more

Video: Octagon

The driver face is outdated. TaylorMade thinks its found the solution and sat down with five of its biggest players to see their reactions as the most twisted driver innovation is revealed. Are you ready to see?
Read more
club.news.more