Lydia Ko wins brand new car…But can't drive!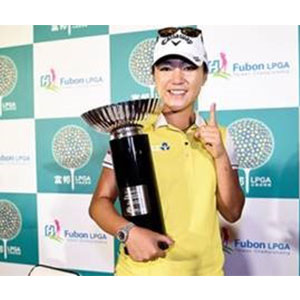 As reward for winning the LPGA's Drive to the Top Award, Lydia Ko was given a brand new car to ride off into the sunset…except she can't drive yet.
The women's World No.1 was presented with a Kia Sorento ahead of the season-ending Tour Championship in Florida, but it now looks as though she will need to practice her driving skills both on and off the golf course.
The prize is handed to the player who has earned the most top-10 wins for the year and Ko has notched herself 16. However, seeing as she doesn't yet have a driver's license, there isn't a great deal for her to celebrate.
"I'll be working hard on my driving this off-season," Ko said.
"But for now, my sister gets the car. She is so happy."
As well as the 16 top-10 finishes this year, Ko has five victories to make her the youngest player to amass 10 career LPGA titles (at the age of 18), two of which came while she was an amateur.
Ko made a steady start to the Tour Championship this year, a tournament she won last year in a play-off. She opened with a three-under 69 to be in a tie for ninth, three shots behind American leader Austin Ernst.
Latest News
OG News: Jarrod Lyle confirms he's in "palliative care"

The golf world, and many out of it, have been left rocked by the news that Jarrod Lyle is going into palliative care after claiming he is "no longer able to fight."
Read more

OG News: Two events left for McDowell to secure PGA Tour card

Graeme McDowell will have just two events to secure a PGA Tour card which would enable him to play in the United States next year after failing to qualify for next week's USPGA Championship in Missouri.
Read more

OG News: Leona & Lisa Maguire sign deals with Puma Golf

PUMA Golf a leader in golf apparel, footwear and accessories are pleased to announce the signing of sisters Leona & Lisa Maguire with immediate effect.
Read more
club.news.more
Latest Videos
Video: Callaway Chrome Soft & Chrome Soft X

Chrome Soft Golf Balls combine Tour-proven performance with unparalleled feel and exceptional mis-hit forgiveness. Everything about the ball that changed the ball is better because of the innovation at every layer, starting with Callaway's groundbreaking new Graphene Dual SoftFast.
Read more

Video: Cobra Golf KING F8 Iron Tech

KING® F8 Variable and ONE Length™ irons are equipped with COBRA CONNECT™. Automatic shot tracking technology Powered By Arccos™.
Read more

Video: Octagon

The driver face is outdated. TaylorMade thinks its found the solution and sat down with five of its biggest players to see their reactions as the most twisted driver innovation is revealed. Are you ready to see?
Read more
club.news.more