Lydia Ko splits from esteemed coach David Leadbetter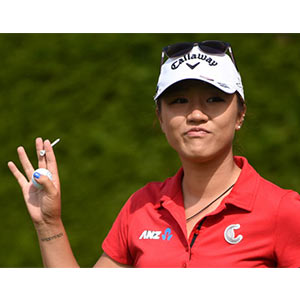 Lydia Ko has called time on her relationship with David Leadbetter, with the esteemed coach suggesting the New Zealander should wriggle free of her domineering parents.
World No.1 Ko, still only 19, worked with Leadbetter for three years, and the split comes after she recently parted ways with her caddie.
"We as a team want to thank Lydia for the privilege of helping her develop her game over the past three years," Leadbetter said in the statement.
"We wish Lydia the very best for the future and know that, going forward, if she is able to withstand the many outside pressures associated with being number one in the world, and if her team keep their expectations realistic, then she can go on to even bigger and better things," he added.
Ko has been struggling for form recently, and some have suggested it is down to Leadbetter and his "A-Frame" swing stunting her progress.
However, Leadbetter, the man who famously rebuilt Nick Faldo's swing back in the 1980's, believes Ko's issues lie much closer to home.
In a shot directed at Ko's parents, Leadbetter said the young golfer should "take control of her own life, take control of her own game", and added "it was not easy coaching three people".
The 14-time LPGA Tour winner last tasted victory in July at the Marathon Classic, having already notched up two major wins in her career to date. However, whether she can manage her game without such a strong influence as Leadbetter in her corner, remains to be seen.
Latest News
OG News: Jarrod Lyle confirms he's in "palliative care"

The golf world, and many out of it, have been left rocked by the news that Jarrod Lyle is going into palliative care after claiming he is "no longer able to fight."
Read more

OG News: Two events left for McDowell to secure PGA Tour card

Graeme McDowell will have just two events to secure a PGA Tour card which would enable him to play in the United States next year after failing to qualify for next week's USPGA Championship in Missouri.
Read more

OG News: Leona & Lisa Maguire sign deals with Puma Golf

PUMA Golf a leader in golf apparel, footwear and accessories are pleased to announce the signing of sisters Leona & Lisa Maguire with immediate effect.
Read more
club.news.more
Latest Videos
Video: Callaway Chrome Soft & Chrome Soft X

Chrome Soft Golf Balls combine Tour-proven performance with unparalleled feel and exceptional mis-hit forgiveness. Everything about the ball that changed the ball is better because of the innovation at every layer, starting with Callaway's groundbreaking new Graphene Dual SoftFast.
Read more

Video: Cobra Golf KING F8 Iron Tech

KING® F8 Variable and ONE Length™ irons are equipped with COBRA CONNECT™. Automatic shot tracking technology Powered By Arccos™.
Read more

Video: Octagon

The driver face is outdated. TaylorMade thinks its found the solution and sat down with five of its biggest players to see their reactions as the most twisted driver innovation is revealed. Are you ready to see?
Read more
club.news.more