Luke Donald baffled by surprise caddie split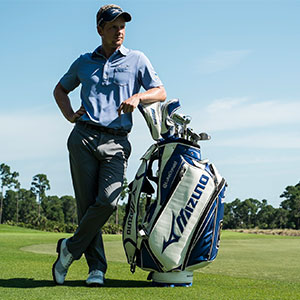 Johnny 'Long Socks' McLaren has been caddying for Luke Donald these past six years but the pair sensationally split this week, leaving the former World No.1 utterly baffled.
Although McLaren has recently said he expects Donald to return to the top of the World Rankings, it hasn't stopped the £300,000-a-year earning caddie from expressing a desire to no longer work alongside the Englishman. This is despite not having another bag to return to.
So, is McLaren's sudden quitting a mystery? It would certainly appear so. There has been rumour that Adam Scott is sniffing around for a new caddie and that 'Long Socks' could be the ideal candidate for fill the void, but McLaren has moved to quash those whisperings. For now it looks as though he's just leaving the game for a while.
However, it has left Donald, currently contesting the British Masters, entirely baffled.
"At the end of [last month's Deutsche Bank Championship in] Boston, John told me, 'I feel it's time to move on'. I was a little surprised," Donald said. "We were starting to make a bit of a comeback, finding some form. John is a strong-willed guy with his own opinions. He is a great caddie with whom I enjoyed some wonderful times."
The pair were certainly distinctive, with McLaren sporting those rolled down stripy socks and towering over Donald like a flashy monolith. And the two were good together. As soon as he took the caddying job, things began to turn around. Luke Donald went from languishing outside of the world's top 30 and straight to World No.1 in less than 18 months.
But now, after leaving his long-time coach Pat Goss last year, Donald has slumped back down into 66th without a win on the two main tours in over three years.
Whether this contributed to McLaren walking is of course a mystery also. But right now Donald has a chance to rebuild with a new caddie and hopefully begin that arduous – though very doable – climb back to up to the summit of the golfing mountaintop.
Latest News
OG News: Jarrod Lyle confirms he's in "palliative care"

The golf world, and many out of it, have been left rocked by the news that Jarrod Lyle is going into palliative care after claiming he is "no longer able to fight."
Read more

OG News: Two events left for McDowell to secure PGA Tour card

Graeme McDowell will have just two events to secure a PGA Tour card which would enable him to play in the United States next year after failing to qualify for next week's USPGA Championship in Missouri.
Read more

OG News: Leona & Lisa Maguire sign deals with Puma Golf

PUMA Golf a leader in golf apparel, footwear and accessories are pleased to announce the signing of sisters Leona & Lisa Maguire with immediate effect.
Read more
club.news.more
Latest Videos
Video: Callaway Chrome Soft & Chrome Soft X

Chrome Soft Golf Balls combine Tour-proven performance with unparalleled feel and exceptional mis-hit forgiveness. Everything about the ball that changed the ball is better because of the innovation at every layer, starting with Callaway's groundbreaking new Graphene Dual SoftFast.
Read more

Video: Cobra Golf KING F8 Iron Tech

KING® F8 Variable and ONE Length™ irons are equipped with COBRA CONNECT™. Automatic shot tracking technology Powered By Arccos™.
Read more

Video: Octagon

The driver face is outdated. TaylorMade thinks its found the solution and sat down with five of its biggest players to see their reactions as the most twisted driver innovation is revealed. Are you ready to see?
Read more
club.news.more