Jordan Spieth withdraws from Olympic Games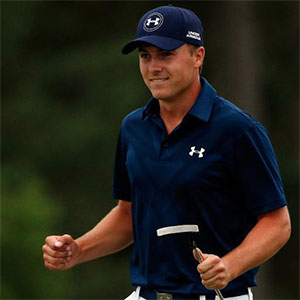 Jordan Spieth will not be making the trip to Rio for this summers' Olympic Games, the International Golf Federation has confirmed.
The 22-year-old Texan was the last high-profile player left to show their hand on whether or not to participate in Brazil, and the news is a crushing blow to golf's governing bodies who were hoping to gain more eyes on the sport when it was played on the grand stage.
The World No.3 has withdrawn due to fears about the Zika virus.
After a 112-year absence from the Olympic Games, it was largely hoped the world would get to watch some of the best golfer's today battle it out for their respective country. Now, however, the sport is clinging to the rags of a competition which once held so much promise.
Spieth has been replaced by Matt Kuchar and is expected to give details about his withdrawal at a news conference before the Open Championship on Tuesday.
IGF president Peter Dawson said the number of withdrawals by top players "hasn't shed golf in the best light".
He added: "We do understand why these individual decisions have been made.
"Personally, I think there's been something of an overreaction to the Zika situation, but that's for individuals to determine, and there's certainly a great deal of concern about this issue inside the game of golf."
And Zach Johnson has also put the boot in by questioning the credentials of golf, football and basketball being included in the Olympics.
"I don't know if golf has its place," Johnson said. "Basketball and soccer, do they really need to be in there either? My guess is they want a World Cup, an NBA Championship, before a gold medal.
"No offence to the Olympics but I'd rather be on the Ryder Cup team. As an American golfer I have that opportunity and that's what I'd rather do."
The Olympics take place from 5 to 21 August, with the men's golf tournament from 11 to 14 August.
Latest News
OG News: Jarrod Lyle confirms he's in "palliative care"

The golf world, and many out of it, have been left rocked by the news that Jarrod Lyle is going into palliative care after claiming he is "no longer able to fight."
Read more

OG News: Two events left for McDowell to secure PGA Tour card

Graeme McDowell will have just two events to secure a PGA Tour card which would enable him to play in the United States next year after failing to qualify for next week's USPGA Championship in Missouri.
Read more

OG News: Leona & Lisa Maguire sign deals with Puma Golf

PUMA Golf a leader in golf apparel, footwear and accessories are pleased to announce the signing of sisters Leona & Lisa Maguire with immediate effect.
Read more
club.news.more
Latest Videos
Video: Callaway Chrome Soft & Chrome Soft X

Chrome Soft Golf Balls combine Tour-proven performance with unparalleled feel and exceptional mis-hit forgiveness. Everything about the ball that changed the ball is better because of the innovation at every layer, starting with Callaway's groundbreaking new Graphene Dual SoftFast.
Read more

Video: Cobra Golf KING F8 Iron Tech

KING® F8 Variable and ONE Length™ irons are equipped with COBRA CONNECT™. Automatic shot tracking technology Powered By Arccos™.
Read more

Video: Octagon

The driver face is outdated. TaylorMade thinks its found the solution and sat down with five of its biggest players to see their reactions as the most twisted driver innovation is revealed. Are you ready to see?
Read more
club.news.more