John Daly recalls story of Tiger Woods snubbing him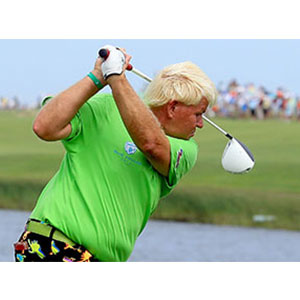 There is no serious comparison between the talents on offer from both John Daly and Tiger Woods. After all, one of them loves to hit the gym and play at every opportunity, while the other loves to down pints in the clubhouse and chain smoke between putts.
However, Daly recently told a story to The Golf Channel which seemed to suggest Woods admired the man more than many realise.
It was during the 2004 Target World Challenge and Daly had just completed the Wednesday pro-am with some friends and was in the clubhouse drinking and telling stories when Tiger Woods walked into the room.
"Tiger's there in his workout clothes and I said, 'Tiger come have a beer with us, man,'" Daly recalls.
Woods declined, explaining that he was bound for the gym and one of his ubiquitous workout sessions. Daly persisted, "I go, 'Man, you don't need to work out. You need to drink a little bit with us.'"
Woods' answer is the stuff of legend.
"He said, 'If I had your talent I'd be doing the same thing you're doing,'" Daly says. "I'm looking at him thinking 'you're crazy, man.'"
Daly turns 50 on Thursday and will make his Champions tour debut in May.
Latest News
OG News: Jarrod Lyle confirms he's in "palliative care"

The golf world, and many out of it, have been left rocked by the news that Jarrod Lyle is going into palliative care after claiming he is "no longer able to fight."
Read more

OG News: Two events left for McDowell to secure PGA Tour card

Graeme McDowell will have just two events to secure a PGA Tour card which would enable him to play in the United States next year after failing to qualify for next week's USPGA Championship in Missouri.
Read more

OG News: Leona & Lisa Maguire sign deals with Puma Golf

PUMA Golf a leader in golf apparel, footwear and accessories are pleased to announce the signing of sisters Leona & Lisa Maguire with immediate effect.
Read more
club.news.more
Latest Videos
Video: Callaway Chrome Soft & Chrome Soft X

Chrome Soft Golf Balls combine Tour-proven performance with unparalleled feel and exceptional mis-hit forgiveness. Everything about the ball that changed the ball is better because of the innovation at every layer, starting with Callaway's groundbreaking new Graphene Dual SoftFast.
Read more

Video: Cobra Golf KING F8 Iron Tech

KING® F8 Variable and ONE Length™ irons are equipped with COBRA CONNECT™. Automatic shot tracking technology Powered By Arccos™.
Read more

Video: Octagon

The driver face is outdated. TaylorMade thinks its found the solution and sat down with five of its biggest players to see their reactions as the most twisted driver innovation is revealed. Are you ready to see?
Read more
club.news.more