Jamie Donaldson's 2016 bow on hold following chainsaw accident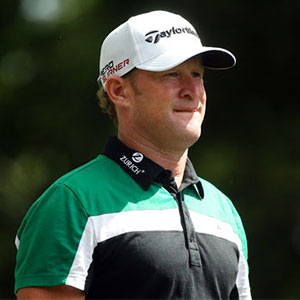 Fans of Jamie Donaldson will have to wait a little longer to watch him on the golf course this year after the 40-year-old sustained a nasty injury to his hand following an accident with a chainsaw.
The horrific injury is said to non-threatening, and the player required several stitches after slicing the bottom part of his little finger.
"So folks in my time off decided to have a fight with a chainsaw and lost! Oops!! C u (sic) in Dubai," wrote Donaldson on his twitter feed, accompanied by an image of the nasty wound.
The tweet does suggest he could be out of action for a short time, which could possibly mean he misses the Abu Dhabi Golf Championship and Singapore Open. A return for the Dubai Desert Classic looks a more certain possibility.
Strangely, Donaldson isn't the first golfer in recent years to lose a fight with a chainsaw. In 2014, Greg 'The Shark' Norman found himself on the receiving end of a vicious cut to his arm after trying to trim back some shrubbery at his home.
As it stands, it's currently Chainsaws 2 – 0 Golfers.
Latest News
OG News: Jarrod Lyle confirms he's in "palliative care"

The golf world, and many out of it, have been left rocked by the news that Jarrod Lyle is going into palliative care after claiming he is "no longer able to fight."
Read more

OG News: Two events left for McDowell to secure PGA Tour card

Graeme McDowell will have just two events to secure a PGA Tour card which would enable him to play in the United States next year after failing to qualify for next week's USPGA Championship in Missouri.
Read more

OG News: Leona & Lisa Maguire sign deals with Puma Golf

PUMA Golf a leader in golf apparel, footwear and accessories are pleased to announce the signing of sisters Leona & Lisa Maguire with immediate effect.
Read more
club.news.more
Latest Videos
Video: Callaway Chrome Soft & Chrome Soft X

Chrome Soft Golf Balls combine Tour-proven performance with unparalleled feel and exceptional mis-hit forgiveness. Everything about the ball that changed the ball is better because of the innovation at every layer, starting with Callaway's groundbreaking new Graphene Dual SoftFast.
Read more

Video: Cobra Golf KING F8 Iron Tech

KING® F8 Variable and ONE Length™ irons are equipped with COBRA CONNECT™. Automatic shot tracking technology Powered By Arccos™.
Read more

Video: Octagon

The driver face is outdated. TaylorMade thinks its found the solution and sat down with five of its biggest players to see their reactions as the most twisted driver innovation is revealed. Are you ready to see?
Read more
club.news.more