Inbee Park hits the buffers in her pursuit of Lydia Ko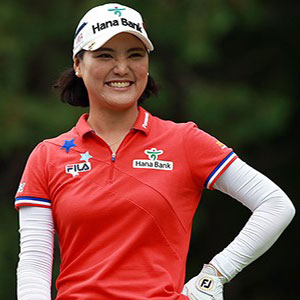 Inbee Park was unsuccessful in her bid to retain the World Ladies Championship title with South Korean So Yeon Ryu clinching a one stroke victory over last week's HSBC Women's Champions winner.
Park held a steady lead going into the final day but was unable to stay in control – though she was full of praise for her friend as she claimed the title.
"It was really just the putting that was the only problem and So Yeon played well," Park explained after the game.
"She played really well and I'm really happy for her.
"If I didn't win, I kind of hoped that she would win, so it's kind of good that my best friend won the tournament and I'm ready to congratulate her."
However Park will not be feeling so forgiving when it comes to catching Lydia Ko, who now has some breathing space following her rival's loss. Park would have been hoping to clinch victory here and then move up the rankings in hot pursuit, but that now seems to be on hold as she regroups and works on the few aspects of her game that let her down this time out.
Ryu rattled three birdies in four holes to win the tournament after trailing by three after the first 7 holes on the final day. As she expertly sank birdies at the ninth, 11th and 12th, she left all her opponents in the dust, including a frustrated Park.
"I didn't expect that I had a chance to win this tournament, because in the second and first rounds, I didn't play really well," Ryu said.
"Fortunately I was able to shoot eight under in the third round so after that I was in contention."
And Ryu was quick to point out that Park, who currently resides at No.2 in the World Rankings, is a true No.1 and will eventually dethrone Ko.
"She is not number one right now, but I believe she is the true number one, so it was great to compete with her," she said.
Park will definitely be feeling the sting of not capitalising at the event, with Lydia Ko choosing not to appear, leaving the door open for her to attack the top spot. But it was a series of bogeys at the key holes in the final round which proved her undoing, and ultimately cost her both the title and a chance to pile the pressure on Ko.
Latest News
OG News: Jarrod Lyle confirms he's in "palliative care"

The golf world, and many out of it, have been left rocked by the news that Jarrod Lyle is going into palliative care after claiming he is "no longer able to fight."
Read more

OG News: Two events left for McDowell to secure PGA Tour card

Graeme McDowell will have just two events to secure a PGA Tour card which would enable him to play in the United States next year after failing to qualify for next week's USPGA Championship in Missouri.
Read more

OG News: Leona & Lisa Maguire sign deals with Puma Golf

PUMA Golf a leader in golf apparel, footwear and accessories are pleased to announce the signing of sisters Leona & Lisa Maguire with immediate effect.
Read more
club.news.more
Latest Videos
Video: Callaway Chrome Soft & Chrome Soft X

Chrome Soft Golf Balls combine Tour-proven performance with unparalleled feel and exceptional mis-hit forgiveness. Everything about the ball that changed the ball is better because of the innovation at every layer, starting with Callaway's groundbreaking new Graphene Dual SoftFast.
Read more

Video: Cobra Golf KING F8 Iron Tech

KING® F8 Variable and ONE Length™ irons are equipped with COBRA CONNECT™. Automatic shot tracking technology Powered By Arccos™.
Read more

Video: Octagon

The driver face is outdated. TaylorMade thinks its found the solution and sat down with five of its biggest players to see their reactions as the most twisted driver innovation is revealed. Are you ready to see?
Read more
club.news.more