How awesome is this? Spectacular Royal & Awesome summer golf attire at OnlineGolf
The most colourful, outlandish, hilarious and ridiculously popular golf brand is gearing up for summer with some spectacular attire. That's right, Royal & Awesome has stepped onto the greens, and this time they've brought some new attire with them!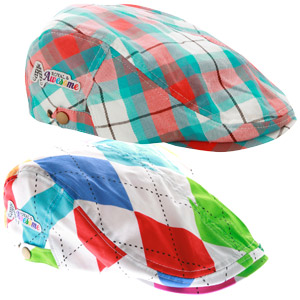 NEW Royal & Awesome Flat Caps!
Keeping the sun out of the eyes while playing a round of golf can be a tricky task. A good pair of sunglasses or a nice golf cap might work – almost certainly will in fact – but wouldn't you rather look snazzy as well as play well? Of course you would! And that's why Royal & Awesome has designed some truly wonderful flat caps ideal for outdoor golf in the summer weather.
The King of Diamonds Flat Cap is a modern take on a classic design, fusing style and colour together to make a bright and cheery sunshade for your bonce! It also has a clever popper system that ensures it fits almost every head size so no one misses out on the fun.
Buddy up the King of Diamonds Flat Cap with…Royal & Awesome King of Diamonds Trousers for a devastating combination of fashion and colour.
Next up is a bold colour that separates the men from the boys. The Royal & Awesome Pink Ticket Flat Cap is so pink the other golfers will be nicknaming you Panther! The fabulous solid pink design will turn heads on the golf course for all the right reasons, and with the same popper system design, the cap will easily accommodate most head sizes.
Streak in pink and buddy up the Pink Ticket Flat Cap with…Royal & Awesome Pink Ticket Trousers to make sure your new nickname really sticks!
No golfer, whether they're in a rush or not, should leave home without plonking a nice stylish flat cap on their head. The Royal & Awesome Well Plaid Tartan Flat Cap is perfect headwear for the greens or clubhouse and it goes pretty well perfectly with anything. The quality design, made with popper system to accommodate almost any size head, is guaranteed to add style and colour to any golfing outfit.
Combine the Royal & Awesome Well Plaid Tartan Flat Cap with…Royal & Awesome Tartan Trousers or Royal & Awesome Tartan Shorts.
Check out the full range of Royal & Awesome clothing now and build yourself a wacky, colourful and, well an awesome, golfing wardrobe!