Has the USGA just introduced the most pointless golf rule ever?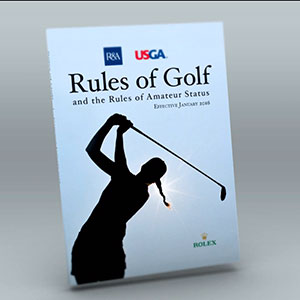 We might not like rules when it comes to playing sport, but we're kind of happy to accept them when they're logical or work to help players and improve the game overall. However, sometimes a new rule is introduced which is so bizarre, so ridiculous that it borders on idiotic; and golfers have the USGA to thank for the latest pointless new rule, one which comes into effect early next year and states that golfers who choose to play alone can no longer submit scores towards their handicap.
We'll just let that sink in for a moment…Not good news for golfers in the US, is it…
Effectively the USGA – golf's governing body – is saying they don't really trust players to be honest about writing down their actual scores. That perhaps some people tinker with their cards to make themselves look better than they really are.
There are several things making this rule arguably the most pointless ever, not least of which is how hypocritical it is. Golf is a game of honour, one in which players uphold long-held traditions by acting as their own referees during games. Now, apparently, those at the top feel it's time to stop entrusting people to do that.
Why not just let people lie about their scores? If they're the kind of person who can't help but cheat, then let them. Who is it hurting in a game they play alone? Surely once they play alongside another golfer they will be found out anyway, so they end up looking foolish in the long run. And if you try to stop these people, won't they just do it anyway? Penalising the honest players who just want to play golf by themselves occasionally is wildly unfair.
But there is a deeper issue here. Golf has yet again managed to seclude itself. For the longest time it has struggled to lure a new generation of fans to the greens, either because they deem the costs too high or because the game is played at too slow a pace – it's a big reason participation numbers keep tumbling. Golf needs more players. But in order to do this, it must make itself accessible to everyone; the exact opposite of what this rule does.
When you make it harder to get a handicap then you push people away from the sport. It's inconvenient having to play in groups for some people and less fun. How can those players retain an attachment to something which seems intent on shoving them back whenever they approach it open-armed?
And no, this is not repeated in other sports, either. Just golf. It is golf-specific, which makes the new rule all the more painful to accept. OK, most sports don't have handicaps that need taking into account, but there are comparable situations. The NBA, for example, doesn't decree that people aren't allowed to say they made 10-straight free throws in their back garden unless someone else is watching. It's a matter of believe me or don't, and it doesn't get overly complicated.
Golfers have taken to twitter and Facebook to vent their frustration at the new ruling, with some calling out the USGA over a lack of trust.
"This is stupid. Solo golf is fast, if you cheat u just screw yourself for when u play with friends for $$$$," wrote Dan Roth, while Shane McClure added, "How does the usga plan on enforcing this? I doubt your local PGA pro is going to say "Don't enter that score, I saw you play by yourself today!" Right after they check your bag for legal groves and made sure you never anchored your putter!".
While for another Facebook user, Jake Maddens, the USGA's new ruling was the last straw: "my whole handicap is based on playing by myself, so I'm done with golf."
It's clear that this time the USGA might have overstepped the mark and enforced one ridiculous rule too many…
Latest News
OG News: Jarrod Lyle confirms he's in "palliative care"

The golf world, and many out of it, have been left rocked by the news that Jarrod Lyle is going into palliative care after claiming he is "no longer able to fight."
Read more

OG News: Two events left for McDowell to secure PGA Tour card

Graeme McDowell will have just two events to secure a PGA Tour card which would enable him to play in the United States next year after failing to qualify for next week's USPGA Championship in Missouri.
Read more

OG News: Leona & Lisa Maguire sign deals with Puma Golf

PUMA Golf a leader in golf apparel, footwear and accessories are pleased to announce the signing of sisters Leona & Lisa Maguire with immediate effect.
Read more
club.news.more
Latest Videos
Video: Callaway Chrome Soft & Chrome Soft X

Chrome Soft Golf Balls combine Tour-proven performance with unparalleled feel and exceptional mis-hit forgiveness. Everything about the ball that changed the ball is better because of the innovation at every layer, starting with Callaway's groundbreaking new Graphene Dual SoftFast.
Read more

Video: Cobra Golf KING F8 Iron Tech

KING® F8 Variable and ONE Length™ irons are equipped with COBRA CONNECT™. Automatic shot tracking technology Powered By Arccos™.
Read more

Video: Octagon

The driver face is outdated. TaylorMade thinks its found the solution and sat down with five of its biggest players to see their reactions as the most twisted driver innovation is revealed. Are you ready to see?
Read more
club.news.more