Pros advice
Golfing pioneer Charlie Sifford passes away at 92
Charlie Sifford, who battled the Caucasian-only clause on the PGA Tour to become its first black member, has sadly passed away at the age of 92.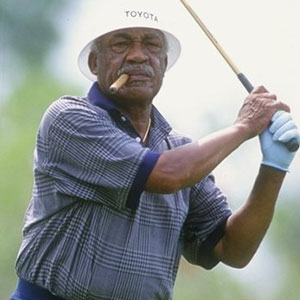 PGA of America President Derek Sprague called Sifford "an uncommon and faithful servant," adding: "His love of golf, despite many barriers in his path, strengthened him as he became a beacon for diversity in our game.
"By his courage, Dr. Sifford inspired others to follow their dreams. Golf was fortunate to have had this exceptional American in our midst."
Sifford recently suffered a stroke but as of this time no cause of death has been disclosed.
An immensely proud man, Sifford endured threats and racial taunts but refused to be victimised. Showing grit and a will to succeed, he won twice on the PGA Tour. His goal was to win and play in the three American majors. He never made it to the Masters, which did not have its first black player until Lee Elder in 1975.
Sifford became the first black man to be inducted into the World Golf Hall of Fame in 2004. Late last year he was presented with the Presidential Medal of Freedom from President of the United States Barack Obama.
Jack Nicklaus and Arnold Palmer are the only other golfers to receive that prestigious honour.
Tiger Woods has often reiterated that he would not have played golf had Sifford and other black pioneers not fought for the right to participate.
"It's not an exaggeration to say that without Charlie, and the other pioneers who fought to play, I may not be playing golf," Woods said in an email to The Associated Press late last year. "My pop likely wouldn't have picked up the sport, and maybe I wouldn't have either."
Everyone at OnlineGolf would like to extend their deepest condolences to Sifford's family.
Sifford was a true legend of the game who made huge sacrifices so that a generation of players would have the opportunity to play without fear of prejudice or scorn. For that the man will go down in golfing history as a true pioneer and legend.
Charlie Sifford - June 2, 1922 – February 3, 2015
Latest News
OG News: Jarrod Lyle confirms he's in "palliative care"

The golf world, and many out of it, have been left rocked by the news that Jarrod Lyle is going into palliative care after claiming he is "no longer able to fight."
Read more

OG News: Two events left for McDowell to secure PGA Tour card

Graeme McDowell will have just two events to secure a PGA Tour card which would enable him to play in the United States next year after failing to qualify for next week's USPGA Championship in Missouri.
Read more

OG News: Leona & Lisa Maguire sign deals with Puma Golf

PUMA Golf a leader in golf apparel, footwear and accessories are pleased to announce the signing of sisters Leona & Lisa Maguire with immediate effect.
Read more
club.news.more
Latest Videos
Video: Callaway Chrome Soft & Chrome Soft X

Chrome Soft Golf Balls combine Tour-proven performance with unparalleled feel and exceptional mis-hit forgiveness. Everything about the ball that changed the ball is better because of the innovation at every layer, starting with Callaway's groundbreaking new Graphene Dual SoftFast.
Read more

Video: Cobra Golf KING F8 Iron Tech

KING® F8 Variable and ONE Length™ irons are equipped with COBRA CONNECT™. Automatic shot tracking technology Powered By Arccos™.
Read more

Video: Octagon

The driver face is outdated. TaylorMade thinks its found the solution and sat down with five of its biggest players to see their reactions as the most twisted driver innovation is revealed. Are you ready to see?
Read more
club.news.more