Pros advice
Europe may have lost, but this year's Ryder Cup was simply awesome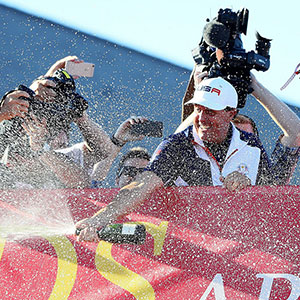 When we look back on the 2016 Ryder Cup from Hazeltine many years from now, it is possible we'll place it as one of the truly great spectacles of golf. Yes, Europe lost the event, and that's disheartening, but the USA were forced to create an A-list taskforce packed with former major winners in a desperate, last-ditch attempt to wrestle the Ryder Cup from our tightly-gripping fingers. In the end they succeeded, but once the dust settled and emotions ebbed (we're looking at you, Hazeltine crowd!), we can quickly realise this event was actually rather good. Excellent, even.
No one is happy that the USA finally reclaimed their crown this side of the Atlantic, but if Europe had won again then perhaps it would have damaged rather than helped the contest. After all, another USA defeat wouldn't have settled well with many. And 8 wins from the last 10 for Europe is a great run. One we can hopefully replicate down the road.
If the USA had lost again, then we'd be looking towards France in 2018 with little more than half-interest. However, with the USA winning so comfortably, it now places more heat on them and a greater emphasis on Europe succeeding on the big stage next time round. Effectively, what's happened is that people are loving the Ryder Cup again.
Even Rory McIlroy, who showed just how badly he wanted to inflict another loss onto the shoulders of Team USA Captain Davis Love III conceded this result would actually help the sport in Europe rather than diminish it.
"Obviously, we're disappointed to lose, but at the same time I think it keeps the Ryder Cup very interesting and gives it a great narrative going into Paris in two years' time,'' the Northern Irishman said. "I think it's good for golf. It gives us that little — not that we need any more incentive — but we're going to want to get it back on our home turf the next time.''
McIlroy gets it; healthy competition is key to good golf. One side always winning can make things stale. Now we've got something to chase again, and that makes the hunt so much sweeter.
Before 1979, the Americans had dominated the Ryder Cup for so long back when it was USA players versus players from Great Britain and Ireland that the powers overseeing the competition changed the rules to allow all of Europe to be eligible. And since that change in 1979, a much fairer fight has been contested around the world.
With Europe's ridiculous win count as of late, there had even been talk of the USA adding other countries to the mix just to keep their heads above water. The suggestion was that adding players from places such as Australia and South Africa might boost the US's chances of success. Would this have levelled the playing field? More likely it would have just muddied it.
In the end it was the much-derided "task force" which did the damage. Spearheaded by Phil Mickelson, it has firmly put the USA back on track – and that is a good thing.
"This is just the beginning,'' Zach Johnson said. "I'm not suggesting it's going to be like every two years, but we've got a great thing going. We've got a good game plan.''
Whether this new task force idea still has enough steam when it rolls into France in two years' time is another question, but right now Europe losing the Ryder Cup is a shame, but it's also actually rather exciting. Now we can regroup, tweak where tweaks are needed, and generally just gear up for another close battle when we bring the fight back to Europe. I'm excited already.
Latest News
OG News: Jarrod Lyle confirms he's in "palliative care"

The golf world, and many out of it, have been left rocked by the news that Jarrod Lyle is going into palliative care after claiming he is "no longer able to fight."
Read more

OG News: Two events left for McDowell to secure PGA Tour card

Graeme McDowell will have just two events to secure a PGA Tour card which would enable him to play in the United States next year after failing to qualify for next week's USPGA Championship in Missouri.
Read more

OG News: Leona & Lisa Maguire sign deals with Puma Golf

PUMA Golf a leader in golf apparel, footwear and accessories are pleased to announce the signing of sisters Leona & Lisa Maguire with immediate effect.
Read more
club.news.more
Latest Videos
Video: Callaway Chrome Soft & Chrome Soft X

Chrome Soft Golf Balls combine Tour-proven performance with unparalleled feel and exceptional mis-hit forgiveness. Everything about the ball that changed the ball is better because of the innovation at every layer, starting with Callaway's groundbreaking new Graphene Dual SoftFast.
Read more

Video: Cobra Golf KING F8 Iron Tech

KING® F8 Variable and ONE Length™ irons are equipped with COBRA CONNECT™. Automatic shot tracking technology Powered By Arccos™.
Read more

Video: Octagon

The driver face is outdated. TaylorMade thinks its found the solution and sat down with five of its biggest players to see their reactions as the most twisted driver innovation is revealed. Are you ready to see?
Read more
club.news.more